Dear Member,

As our financial year draws to a close, it is important to contact Tania or Farah at the Club should you need to make any changes to your membership before the 1st of April.

We always encourage communication between our members and the club. If you have any comments or questions please don't hesitate to either contact our General Manager, Albert Clack at gm@randpark.co.za or our Club Captain, Arthur Heinrich at captainslog@randpark.co.za.

Another 18mm fell on Monday night and along with cool day temperatures the courses are still very wet.

We are busy trying to drain some of the worst wet areas on both courses. We are hand-digging a trench on the 3rd hole's walkway on Bushwillow and brought in a TLB to open up the drain on the 14th hole on Firethorn where we discovered a concrete storm water pipe that is blocked. While we had the TLB we cleared our dump area on the 13th on Firethorn and managed to remove the Pampas grass from the river on the 18th on Firethorn. Although the Pampas grass can help to stabilise the river bank it is a category 1 invader plant and needs to be removed.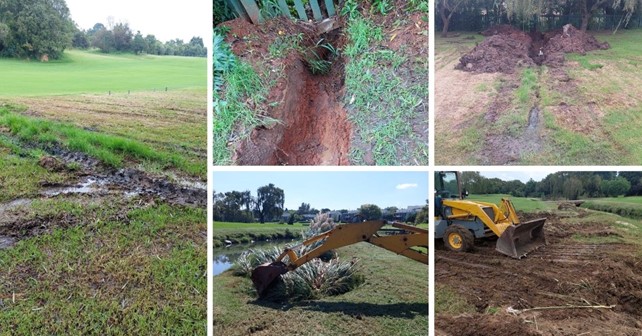 Unfortunately the Graduate Club Championship C-Division results were not included in Monday's newsletter link. Please click here for a breakdown of all the results.

Saturday Golf Bookings

Please don't forget that we are now only using ONE email address for Saturday bookings saturdaybookings@randpark.co.za.

Below are the updated procedures for your perusal:
The maximum fourballs requested will be four fourballs.
When booking, the names of players due to participate should be provided with their membership numbers.
In the event that you request more than four fourballs two emails must be sent to the above email address.
Bookings for tee times open two weeks prior to each particular week.
Saturday AM bookings: bookings for the Saturday AM field may be sent via email from Thursday 12h00 onwards, i.e., 16 days prior to the requested booking Saturday.
Saturday PM bookings: bookings for the Saturday PM field may be sent via email from Friday 12h00 onwards, i.e., 15 days prior to the requested booking Saturday.
Booking requests will be addressed on a first-come, first-served basis. Any booking request that is received before the requested booking times (as above) will be moved to the back of the booking list.
Please note the above email address will only be used for booking requests. Any additional changes, whether it be a change of players, booking of carts, etc. must be done directly with the booking ladies as per the email addresses below:
Well Done & Congratulations to

All Our Club Competition Winners
Weekly Competition Schedule
Is the continuous rain dampening your golf game? Don't let that stop you from putting the effort in to improve your game. Golf is a sport that requires constant attention and practice to perfect and improve your game. The weather might be against you, but at Powerblast Training we are not. Come and train in our facility at the Health and Wellness Centre - a well-ventilated and clean space where you are sheltered from the weather. We specialise in sports-specific conditioning that ensures improvement in flexibility, rotation, stability, power generation, clubhead speed and distance. Start your journey with us - perfecting your golf engine will improve your performance on the course.



Fitter-Stronger-Faster
Warren McCann: 082 450 8220
Theo Heinrich: 073 997 4613
At your Home away from Home
HAPPY HOUR on FRIDAY from 18.00 to 19.00
20% discount for members paying with their club card
The cards are in your hands
Purchase your tickets (one for R10, six for R50 and fifteen for R100!) from Vern on Saturday between 12.00 and 14.00 & 16.00 and 18.00.

Both draws are over R8 000!

Sponsored by
Greg (Pops) Collier-Payne
International Money Transfer Specialist
083 297 1076

Enter the Attendance
Lucky Draw
Don't forget to hand in your scorecards on Saturday and stand a chance to be one of the lucky Johnnie Walker Black winners!

AM Prize-giving @ 2pm – ONE bottle of Johnnie Walker Black!
PM Prize-giving @ 6 pm – THREE bottles of Johnnie Walker Black!

Sponsored by
You have to be present when the morning (2pm) and afternoon (6pm) draws take place.
Shrinking Target Challenge
Top the leaderboard for the month of March and WIN a WellPutt Mat Start.

For more information please contact Leanne on 011 215 8600 or clubevents@randpark.co.za
Have a great weekend
Stay Safe, Healthy & Happy!
The Randpark Team
This mail was sent to {{contact.contact_email}} by Randpark Club and is provided as a service for the members and guests of Randpark Club and has been supported and sponsored by advertisers in this email and our partner suppliers. For any queries contact us on 011 215 8600.

Sent on behalf of Randpark Club by
RetailTribe: Unit 8 | Blaauwklip Office Park | Stellenbosch | 7600 | 021 880 2693