| | | |
| --- | --- | --- |
| | | The Club |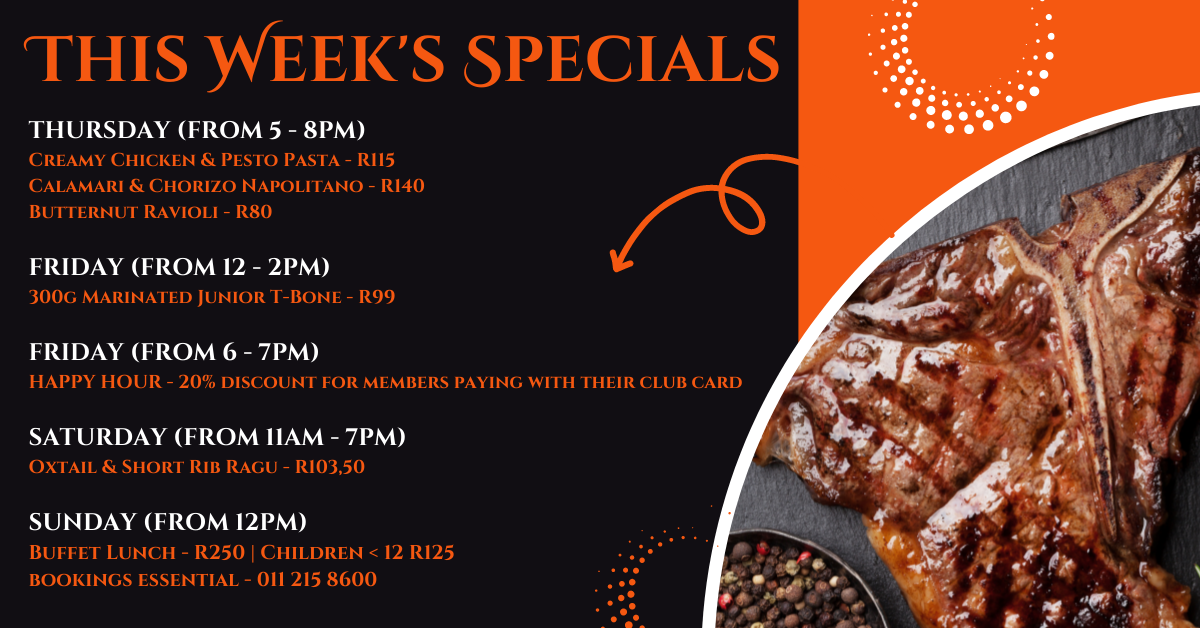 Dear Member,

Randpark Club has started a new financial year and we urge members to renew their memberships as soon as possible. Your subscriptions form the basis of our revenue and makes it possible for us to provide the facilities that you enjoy as a member. The General Committee and the management have mapped out a plan to improve on the condition of our courses, as well as to make our Club even better. To do that, we need the support of our members and we thank you for making Randpark your club of choice.

On a different topic, we have had complaints from the Willows Estate on the west side of the driving range of errant balls being hit into their grounds and injuring people (and children). There has also been damage done to rooftop solar panels. Now, even if you are hitting balls from the top tier of the driving range, it takes some intent to firstly aim more than thirty degrees to the right, and then to hit the ball so that it clears the safety net at 25 metres and still land some 150 metres further into the homes in the estate.

While I can understand the occasional sliced ball managing the feat, it is incomprehensible that several hundred balls every week are driven on to a trajectory that will endanger people and property. It is hard to escape the conclusion that this is done with malicious intent, and perhaps without considering the potential for injury and damage that may follow.

If you are going to use the driving range, please keep in mind that you should do so with care and consideration of what could happen if you do not keep within the borders of the driving range. We have set up the InRange system to track errant balls, and we will be monitoring the situation so that we can identify and take disciplinary action against players who cause damage or injury. A driven golf ball can be a lethal projectile, and we cannot allow players to drive their golf balls in an irresponsible and dangerous manner. Please help us to make our driving range safer by firstly taking due care and then to alert us if you become aware of anyone else not caring where their golf balls land.

Regards,
Dr Gerrit Sandrock
Randpark Club President

We always encourage communication between our members and the Club. If you have any comments or questions, please don't hesitate to either contact our General Manager, Albert Clack at gm@randpark.co.za or our Club Captain, Arthur Heinrich at captainslog@randpark.co.za.

The bunker on the 4th fairway on Bushwillow has finally dried out enough to work in. We are removing all the old contaminated sand, installing new drainage and finally adding new sand.
We will be addressing the wet area by the 3rd tee on Bushwillow. There is a permanent flow of underground water that has not reduced in the last 3 weeks. The drainage project will commence early next week with the water being drained to the irrigation dam next to the 3rd tee.
Well done & congratulations to our


Club Competition Winners
| | | |
| --- | --- | --- |
| | | Events |
We would like to remind our members taking part in this year's knock-out events that extensions for a fixture will only be granted under the following conditions:

Extensions will be granted to players who are selected to represent the Club at club level, i.e. League, Provincial or National level. Furthermore, should the league fall on a Sunday, the player will be granted an extension even if the knock-out fixture is scheduled for the Saturday, and he / she so wishes to withdraw from golf on the Saturday because he / she is representing the Club, Province or Country on Sunday.

Below are the upcoming fixtures for the remainder of the knock-outs:

Individual Knock-Outs:
• Round 3: 14th May
• Round 4: 18th Jun
• Round 5: 30th Jul
• Semi Finals: 27th Aug
• Finals: 17th Sep

Betterball Knock-Outs:
• Round 2: 2nd Apr
• Round 3: 7th May
• Round 4: 25th Jun
• Round 5: 6th Aug
• Semi Finals: 10th Sep
• Finals: 22nd Oct
| | | |
| --- | --- | --- |
| | | Weekly Club Schedule |
| | | |
| --- | --- | --- |
| | | Reciprocity Update |
We have partnered with Links2Golf International as one of its prestigious Affiliate Clubs.
We want to remind you of the exciting benefit your membership provides you, access to 700+ signature golf clubs in Europe, North America, Asia, Australia, New Zealand and 49 other countries by legendary designers such as Nicklaus, Dye and Norman.

• Take advantage of significantly reduced green fees at all Network Clubs.
• You may book your tee times a minimum of 14 days in advance and up to 60 days in advance.
• You may utilise your benefits for up to 4 rounds of golf monthly at clubs that are farther than 150 kilometres from your home club / primary or other residence(s).
• As a network golfer, you must REGISTER to use the easy on-line tee time request form. It will take you through the process step-by step!
• L2G shall collect a non-refundable booking fee from the requesting Network Golfer of US$10.00 per confirmed tee time.
• Visit https://www.links2golf.com/explore-network/ for a full list of Network Clubs.
• Contact L2G at teetimes@links2golf.com or +1-833-(272-4746).
• Terms and conditions apply.

If you have any questions please contact Rikert at golf@randpark.co.za or 011 215 8600.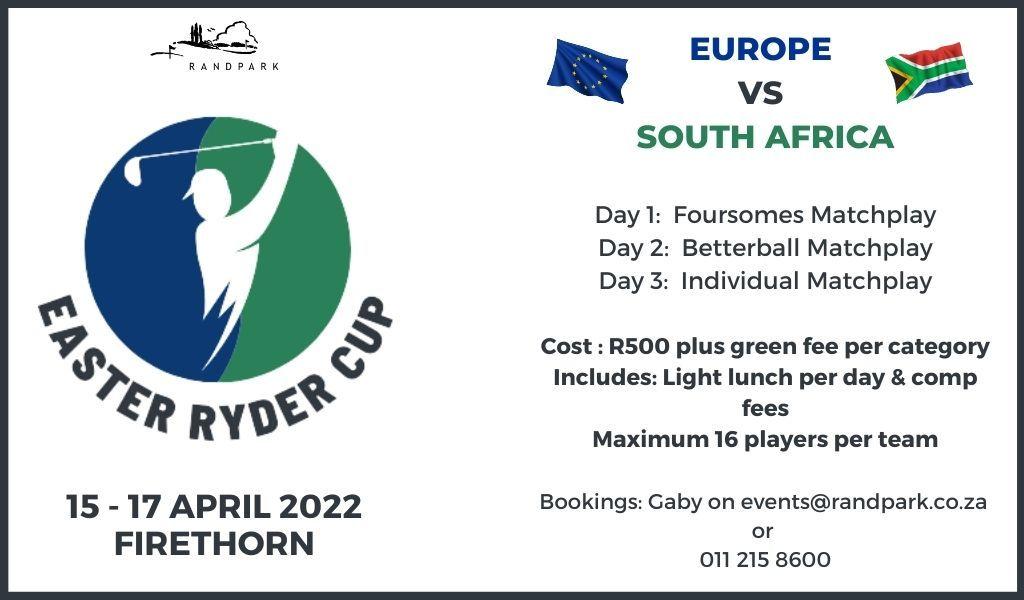 Here at Powerblast Training we utilise four key components of training to positively impact you in your fitness journey:
1. Mobility
2. Flexibility
3. Stability
4. Posture

These components build the foundation to improve the overall functioning of your body. One cannot get fitter, stronger or faster without laying the foundation. Each progression of training that you can think of relates closely to these components. Without laying the foundation, improvement is severely limited and could even result in injury later down the line. Allow us to help you lay the foundation of your training to ensure that your hard work will progress into self-improvement and to limit the risk of injury as much as possible. Come through to our facility or contact us.

Fitter-Stronger-Faster

Please note that Powerblast Training will be closed for the Easter weekend:
Closed: Friday, 15th April to Monday, 18th April
Re-opening: Tuesday, 19th April

Warren McCann: 082 450 8220
Theo Heinrich: 073 997 4613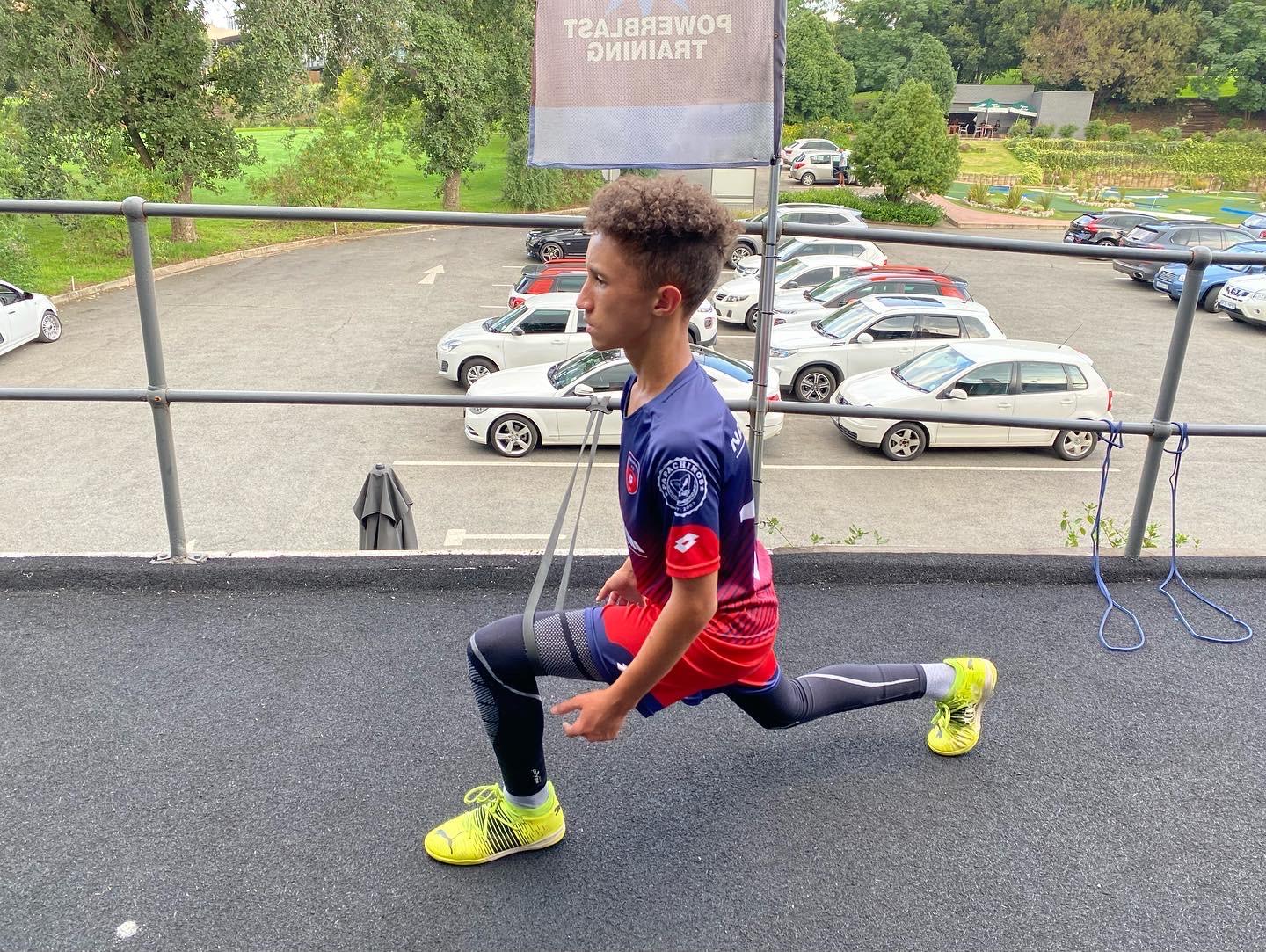 | | | |
| --- | --- | --- |
| | | Debit Orders |
| | | |
| --- | --- | --- |
| | | The cards are in your hands |
Purchase your tickets (one for R10, six for R50 and fifteen for R100!) from Vern on Saturday between 12.00 and 14.00 & 16.00 and 18.00.

Both draws are over R9 000!

Sponsored by


Greg (Pops) Collier-Payne
International Money Transfer Specialist
083 297 1076
| | | |
| --- | --- | --- |
| | | Enter the Attendance Lucky Draw |
Don't forget to hand in your scorecards on Saturday, and stand a chance to be one of the lucky Johnnie Walker Black winners!

AM Prize-giving at 2pm – ONE bottle of Johnnie Walker Black!
PM Prize-giving at 6 pm – TWO bottles of Johnnie Walker Black!

Sponsored by
You have to be present when the morning (2pm) and afternoon (6pm) draws take place.
| | | |
| --- | --- | --- |
| | | Connectivity Conundrum |
Recently 123mds were approached by one of their engineering clients to propose an internet and VOIP solution in the heart of a platinum mine, far away from any connectivity towers and most other things. Without a decent internet connection, the onsite mobile office is just an empty shell with little use to anyone ... (Read more)
Have a great weekend
Stay Safe, Healthy & Happy!
The Randpark Team
This mail was sent to {{contact.contact_email}} by Randpark Club and is provided as a service for the members and guests of Randpark Club and has been supported and sponsored by advertisers in this email and our partner suppliers. For any queries contact us on 011 215 8600.

Sent on behalf of Randpark Club by
RetailTribe: Unit 8 | Blaauwklip Office Park | Stellenbosch | 7600 | 021 880 2693