| | | |
| --- | --- | --- |
| | | The Club |
Dear Member,

We are very excited to host our 2022 Club Champs next weekend, please see below what you can expect.

Entries will close on Friday, 13 May. We currently only have a few slots available and they are filling up quickly. Avoid missing out on the biggest golfing event on our calendar, click here and enter today!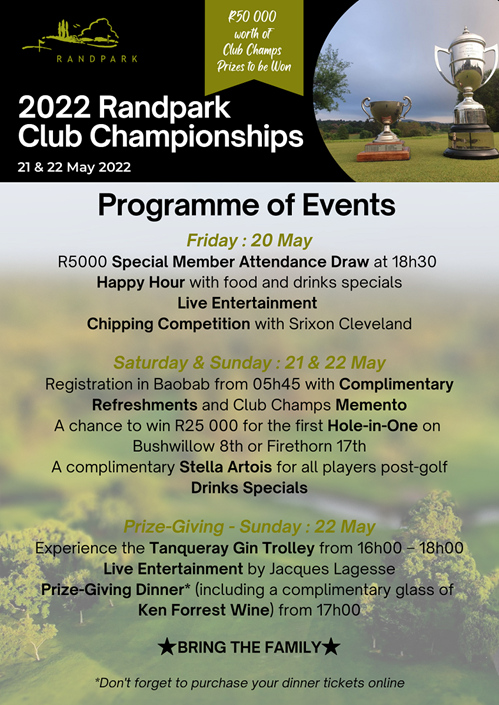 Please note both courses will be closed for 9-holes on Friday, 20 May and Saturday, 21 May due to course set-up.

As mentioned in Monday's newsletter, we regret that we will not be taking any late entries. All paid-up entries as of Friday, 13 May will be final. All handicaps as of Wednesday, 18 May will be used for the tournament and the draw. The draw will be published by Wednesday afternoon on the member's noticeboard and at the Club's main reception. You will also receive an email confirmation of your tee time.

Here are some Q & As with regards to Club Champs:

Q - Will I be allowed to make use of an outside caddie?
A - No, as per the local rules only local registered caddies will be allowed.

Q - Will I be allowed to make use of a distance-measuring device?
A - Yes, only if the device measures distance.

Q - Am I allowed to make use of a golf cart?
A - Yes, all players (except juniors) will be allowed to make use of a golf cart for day 1.
Players who are seeded in A-Div (top 15) are the only players who will not be allowed the use of a golf cart on day 2.

Q - Will spectators be allowed to walk with me?
A - Yes, friends and family may be allowed on the course, as long as they do not interfere with pace of play, give any advice or any ruling during the round.

Q - What time will prize-giving start after the tournament?
A - Our aim is to start prize-giving as soon as all the results have been confirmed after all scorecards have been submitted. We kindly remind all players to hand in their scorecard immediately after completing your round, please do not shower or have a drink first.

Q - How many prizes can I win?
A - Randpark does have the policy of One "Man" – One Prize. A player may win more than one trophy but the highest prize value will be paid out.

2022 Men Local Rules
2022 Ladies Local Rules
Draw Template
Happy golfing
Albert & Rikert

We always encourage communication between our members and the club. If you have any comments or questions please don't hesitate to either contact our General Manager, Albert Clack at gm@randpark.co.za or our Club Captain, Arthur Heinrich at captainslog@randpark.co.za.
We took delivery of an outreach flail mower this week, a heavy duty mowing/mulching machine, used in very think rough and slopes, like river banks where lots of debris (stones and bottles) accumulate, that would damage normal mowers. Locally made, the machine is very cost effective to purchase and maintain. The machine is also assisting in cutting down man hours, and the team to be more productive.
The water fountain taps have finally arrived and have been installed on the course.
The chipping green opened last weekend, but being a brand new green that is still soft and with limited growth due to cooler conditions, we have closed the chipping green during the week but will open it again on weekends.
Well Done & Congratulations to Our

Competition Winners
Congratulations to Carol Primes, our Goldiam Cup winner – this was the first weekday trophy event for 2022!
| | | |
| --- | --- | --- |
| | | Weekly Club Competition Schedule |


Winter is here – It is getting cold in the mornings and evenings. It is always just easier to stay in bed where it is warm and hibernate during the cold parts of the day. In doing so, your golf engine is getting weaker and tighter. Let's get moving. Do not hibernate like everyone else. Be the change that you want.

Get up!
Dress up!
And Show up!

Movement is the greatest form of warmth generation and body/engine maintenance. Winter is the hardest season to get moving and going, because of the mindset all of us have. Our human nature is to stay warm, hibernate because it is nicer and easier. If you do not know what to do, how to move and how to get flexible and strong, Powerblast Training is here to help. You just got to get here. Fight the urges to not do anything. Prioritise your engine - your body. Prioritise your golf - your sport - your life. Prioritise your happy place - your safe haven - your social environment. Let's get moving this winter. You can do this.

Fitter-Stronger-Faster
Inspired by Science Driven by Passion

Warren McCann: 082 450 8220
Theo Heinrich: 073 997 4613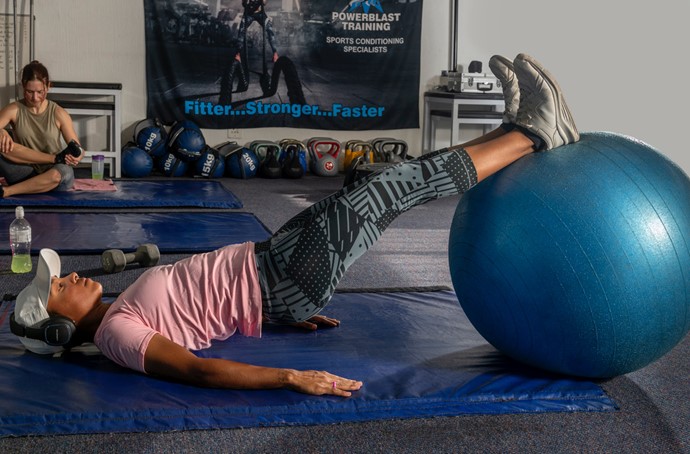 We are proud to have once again been Nominated for SA's Best Golf Course 2022 in the World Golf Awards! World Golf Awards™ serves to celebrate and reward excellence in golf tourism, world-class courses, and golf destinations. Please click on the image below or here to vote for your Club.
Due to maintenance, the Driving Range will only open at 14h00 on Monday, 16 May. We apologise for any inconvenience this may cause.
| | | |
| --- | --- | --- |
| | | The cards are in your hands |
Purchase your tickets (one for R10, six for R50 and fifteen for R100!) from Vern on Saturday between 12.00 and 14.00 & 16.00 and 18.00.

Both draws are over R11 500!

Sponsored by

Greg (Pops) Collier-Payne
International Money Transfer Specialist
083 297 1076

| | | |
| --- | --- | --- |
| | | Enter the Attendance Draw |
Don't forget to hand in your scorecards on Saturday and stand a chance to be one of the lucky Johnnie Walker Black winners!
AM Prize-giving @ 2pm – FOUR bottles of Johnnie Walker Black!
PM Prize-giving @ 6 pm – TWO bottles of Johnnie Walker Black!

Sponsored by
You have to be present when the morning (2pm) and afternoon (6pm) draws take place.

Have a great weekend
Stay Safe, Healthy & Happy!
The Randpark Team
This mail was sent to {{contact.contact_email}} by Randpark Club and is provided as a service for the members and guests of Randpark Club and has been supported and sponsored by advertisers in this email and our partner suppliers. For any queries contact us on 011 215 8600.

Sent on behalf of Randpark Club by
RetailTribe: Unit 8 | Blaauwklip Office Park | Stellenbosch | 7600 | 021 880 2693