On 3 September 2018 we will be implemented with a new Course and Slope Rating System which will influence your Handicap Calculation. Under this system, your course handicap on any given day will be determined according to the difficulty of the course you choose to play. GolfRSA believes that this will be fairer than our current handicap which does not equalise the higher and lower handicaps well on a difficult golf course. It will also bring SA in line with the rest of the world when the World Handicap System is implemented and make our Handicap Index portable from country to country. Over the next couple of months we will assist in explaining the process, so that as of the 3rd September you are fully aware of the new system.

Please see attached with some explanations on the new system.

Our course slope rating will be as follows:


Ebotse


Yellow
White
Blue
Red


Current


74
71
68/Na
Na/72

Men (72)


75,2/140
72,8/138
69,5/131
67,7/126

Women (72)


-
-
75.6/146
73,1/141


With the aim of ensuring that all players are equipped with high quality and fully functional handicap cards, HNA will be issuing a brand-new card, with a fresh look, to all affiliated golfers during the course of June 2018. This new card will replace the grey SRIXON SAGA handicap card that is currently in circulation. Importantly, there will be no cost to either the club or the player.

Here is a sneak preview of the newly-designed handicap card:



Click here
for everything you need to know about the
new card order and distribution process.


Did you know that as a member, you can log in with www.teesheet.co.za? This is our Club Management software, and it gives you the ability to:


1.

Book online for your next round of golf.
2. View your club information and update your details
3. View your accounts and keep track of your membership account

All you need to do is:
1. Visit www.teesheet.co.za
2. Search for Ebotse Links
3. Enter your SA Id number
4. Receive your password
5. And login

If you have any problems, contact Dean Kupferman on 087 285 3560 or 082 497 9588

Join us on Friday 1st June and stand a chance to win some tickets to the SA vs England game on the 9th June at The Emirates Stadium.

We have 8 tickets up for grabs, so come join us for a round of golf or even just for a few drinks in the Pot Bunker.

Draws will take place at 19h00.


Members Only


Tee times from 09h00 – 11h50. 1 tee start (72 Players)
Format – Betterball Stableford & Matchplay
Betterball score goes towards the teams score for the day.
Matchplay – A bonus point will be awarded for the betterball pairing that wins their game and will be added to the team's points.
Dress Code:
Souties – Red/White, Boere – Green/Khaki
Comp Fee – R100 per person

SA vs England Game in the Pot Bunker at 17h00

If you wish to enter, please put your name down in the Pro Shop under the team you wish to participate in.


Grant Veenstra Pro-Shop will be hosting a putt-putt competition once a month (last Friday of every month). It will be an 18 hole challenge on the putting green. The player with the 3 best scores out of the six rounds will be the winner of a custom-fitted Scotty Cameron putter.


Competition: Individual Medal
Cost: R50 p/p
Putt Putt Course Set-up: Devaux
Time: 15:00 – 17:00
Prizes: One Scotty Cameron at the end of the sixth event.
Dates:
27th April 2018 – Winner Neil Cothill 34 putts (-2 Under Par)
1st June 2018
29th June 2018
27th July 2018
31st August 2018
28th September 2018 (The winner will be announced after this event, 3 best scores)



Second events dates to be confirmed. Food and Drink will be on own account. If you have any enquiries, please speak to

John, Grant or Devaux.


To view the full calender of events for June 2018, please click on the following link :

June 2018

Would you like to have your function at Ebotse Links?
Get hold of Sarah Kardolus at events@ebotselinks.com or on 0872853563, and find out about the Members Special Rate for venue hire.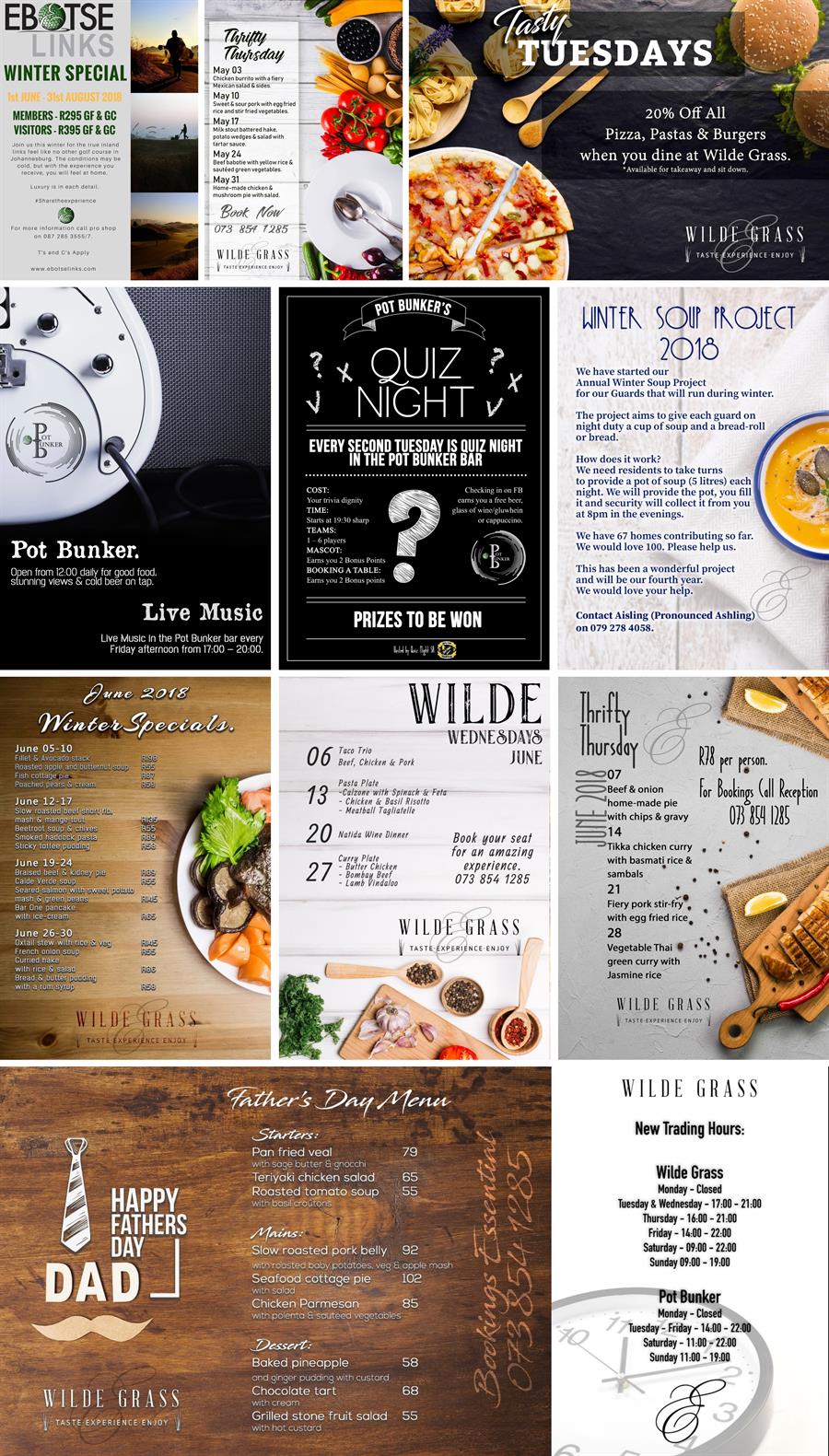 Hans Swanepeol 3rd June
Grant Veenstra 3rd June
Matthew Carter 6th June
Marius Van Zyl 7th June
Vince Cockbain 9th June
Ryan Schaper 11th June
Nelson Dias 12th June
Henk Swart 12th June
Pieter Beket 13th June
Stanislavs Hewaskiewitz 14th June


Shaun Reynolds

15th June


Gavin Nezar 16th June
Dean Kupferman 16th June
Attie Scott 17th June
Greg Hennessy 18th June
Catherine Le Grange 18th June
Philip Thompson 19th June
Derek Haynes 20th June
Jordan Burnand 21st June
Lauren Haynes 21st June

Sally Kruger 21st June
Stanley Sagathevan 21st June
Caleb Roets 22nd June
Demi Crystal 23rd June
Dylan Slater 26th June
Martin Prinsloo 26th June
Chris Scott 26th June
Sylvester Koterba 27th June
Raymond Nel 28th June
Warwick Purchase

30th June

12th May 2018
- Mercedes Benz Monthly Medal
A Division - Best Nett
1st Wayne Allen 70
2nd Jaco Van Zyl 72
Best Gross
1st Kevin Monk 76
2nd Hardus Maritz 77



B Division

- Best Nett
1st Clint Gaffney 67
2nd Marcus Coetzer 68

Best Gross


1st Nelson Dias 85
2nd Phillip Johnson 88

C Division - I.P.S
1st Tony Brough 35 points c/o
2nd Jan Stiglingh 35 points

Visitor Comp - I.P.S
1st Kyle Mitchell 44 points
19th May 2018 - Global Cables IPS

1st Marcus Coetzer 41pts
2nd John Moore 39pts C/O
3rd Gerald Carey 39pts
4th John Van Kan 38pts
5th Graeme Watson 37pts C/O
6th Steven Wasserman 37pts

26th May 2018 – Full Day Field Members

1st Gerald Carey/Kevin Venter/Marius Van Zyl/Pieter Kruger 95 points
2nd Lorraine Kruger/Adel Munger/Sharon Marks/Leslie Nienaber 92 points
3rd Price Fourie/Philip Johnson/ Nelson Dias/Brian Pereira 90 point

Visitors comp
1st Craig Vergie /Colin Popham/Naym Harmen/R. Harmen 97 points