23 August 2021 | ISSUE 73

THE GOOD LIFE
On the Course | Off the Course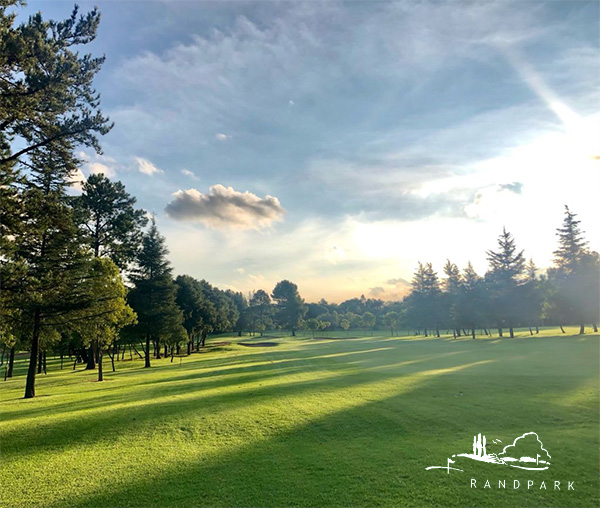 Members and Guests

Dear Member,
The Club
A Tribute from the Club
It is with great sadness that we inform you of the passing of
John Craner
, a long-standing Club member. John had not been enjoying the best of health for a good while, which kept him off of the golf course. He was a popular, if not a quiet member of the regular Monday afternoon social gathering at the Club, and will be sadly missed by all. Our thoughts and prayers are with his family and friends through these difficult times. A glass will be raised in his memory around 4.30pm at the Club this afternoon.
Randpark Member Survey
Thank you to all the members for taking the time to complete the survey. Congratulations to
Colin Steyn
, the winner of a lunch for four at The Fairway Hotel's Balata Restaurant. You can collect your voucher from Leanne Chilvers at the Club. We will post the results in the newsletter on Thursday.
SAVE THE DATES


Please diarise the below dates for the Ladies AGM, Company AGM and Club AGM:


Ladies AGM

– Saturday, 28th August 2021


Company AGM

– Wednesday, 15th September 2021


Club AGM

– Monday, 20th September 2021
We look forward to seeing you there!

We enjoyed another beautiful weekend at Randpark, with temperatures close to 26 degrees; ideal weather conditions for golf. Yes, the wind did make it a bit tougher, but that is August. With that being said, winter is still not over; some reports are indicating a big cold front heading towards South Africa at the end of the week, so don't pack away your long johns just yet.

As we mentioned in last week's newsletter, Roger and his team have started the annual spring treatment, and are busy with a lot on the courses. One of the biggest changes you would have noticed is the bollards on the courses being removed. The team will continue this week and fill up the holes as they go along. Additional movable bollards will become more visible in areas that require a little bit more care. We kindly request members to avoid driving over these areas, and if the bollard is in your line of play, and needs to be removed, please replace it in its original position. Members are still restricted (when driving a golf cart) not to drive within 15 m from greens and tee boxes.

As the greens are a bit firmer this time of the year, finding your pitch mark does become more difficult. If you know that your ball made a pitch mark on the green and you can't find your own, look for another one within that area. Rather fix one or two other pitch marks instead of not fixing any.

Rule of the Week


What is considered a dangerous animal on a golf course? Yes, some members that hit the ball a long way might consider they are "animals", but not all animals are dangerous as we know. In the rules of golf under Rule 16.2, a player may get relief without penalty when the player or ball is near a dangerous animal. They mention animals like poisonous snakes, stinging bees (we do have a few beehives on the courses), alligators, fire ants or bears. I think because we live in South Africa, we can add a few more animals to that list like lions, leopards, hippos, and even some birds.

Relief from these areas may be taken under Rule 16.2 and it reads as follow:
"A player may take relief under

Rule 16.2b

from interference by a dangerous

animal

condition, no matter where his or her ball is on the

course

,

except

that relief is not allowed:


•

When playing the ball as it lies is unreasonable because of something other than the dangerous

animal

condition (for example, when a player is unable to make a

stroke

because of where the ball lies in a bush), or


•

When interference exists only because the player chooses a club, type of stance or swing or direction of play that is clearly unreasonable under the circumstances.


Relief for Dangerous Animal Condition


When there is interference by a dangerous

animal

condition:


(1)

When Ball Is Anywhere Except Penalty Area

. The player may take relief under

Rule 16.1b

,

c

or

d

, depending on whether the ball is in the

general area

, in a

bunker

or on the

putting green

.
(2) When Ball Is in Penalty Area. The player may take free relief or penalty relief:


• Free Relief: Playing from Inside Penalty Area.

The player may take free relief under

Rule 16.1b

,

except

that the

nearest point of complete relief

and the

relief area

must be in the

penalty area
.


• Penalty Relief: Playing from Outside Penalty Area.



The player may take penalty relief under
Rule 17.1d
.
If there is interference by a dangerous
animal
condition where the ball would be played after taking this penalty relief outside the
penalty area
, the player may take further relief under (
1
) without additional penalty.
Entries will be limited to the first 120 paid entries. Participants must be 50 years and older on the day of the tournament. Entries close on the 6th of September, and the draw will be done on the 7th of September.
Entry Fee: R200 (incl. hospitality stations at registration, comp fee, gift and warm-up buckets at the Range)
Tee Times: Sat, 11 Sept, Bushwillow PM Field 11h14 – 13h06 off both tees;
Sun, 12 Sept, Firethorn AM Field 06h30 – 08h30 off both tees
Halfway House: Grab & Go – players own account
Sunday Prize Giving Lunch: optional at an additional cost of R150 pp
Registration:

click here

or contact Leanne on

011 215 8600

/

clubevents@randpark.co.za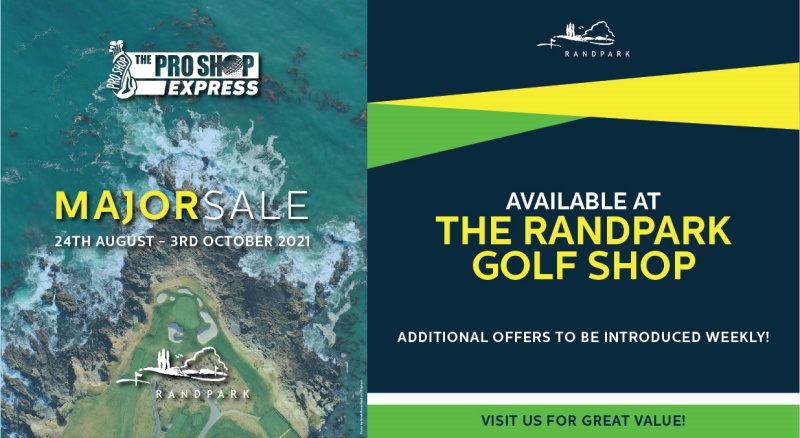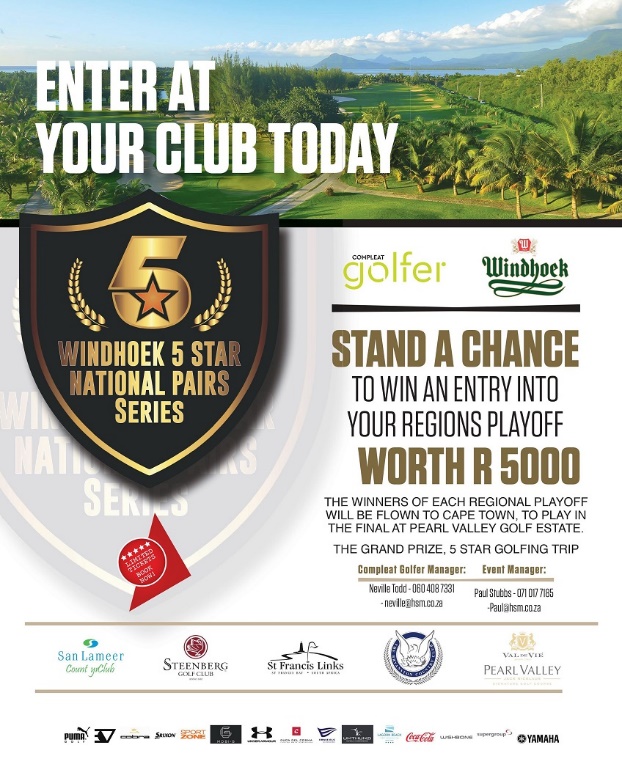 Enter the

Windhoek 5 Star National Pairs

at Randpark on Saturday, 28th of August, and stand a chance to win an entry into the Regional Playoff.

Format: Betterball Stableford
Cost: Normal Saturday Competition Fee will apply
Prizes: Stand a chance to win an entry into the Regional Playoff worth R5000. The winners of each Regional Playoff will be flown to Cape Town to play in the Final at Pearl Valley Golf Estate


•

One overall winner per course


•

All day through the field competition


•

Normal Club Prize-giving will be at 14h00 (morning field) and 18h00 (afternoon field)


•

Saturday booking procedures will apply. Please ensure you and your playing partner are both available, if required, to take part in the Regional Final (date to be confirmed)
DUE TO POPULAR DEMAND, WE HAVE OPENED BUSHWILLOW AS FIRETHORN IS NOW FULLY BOOKED!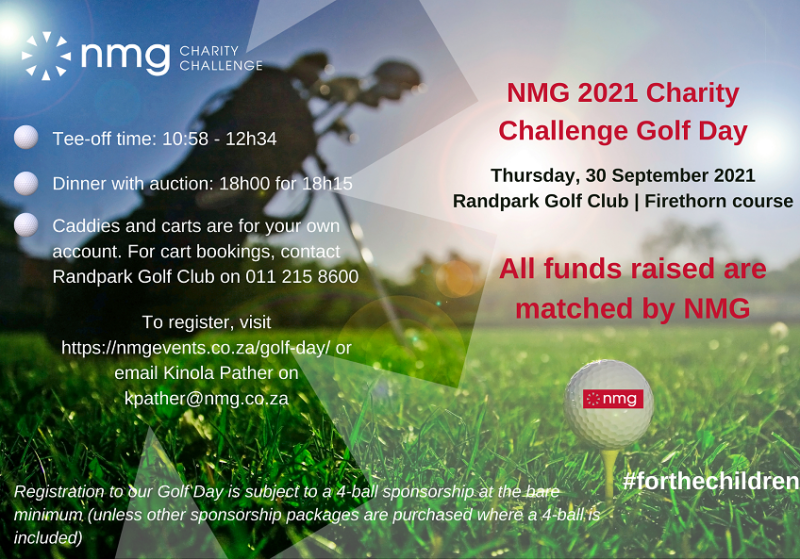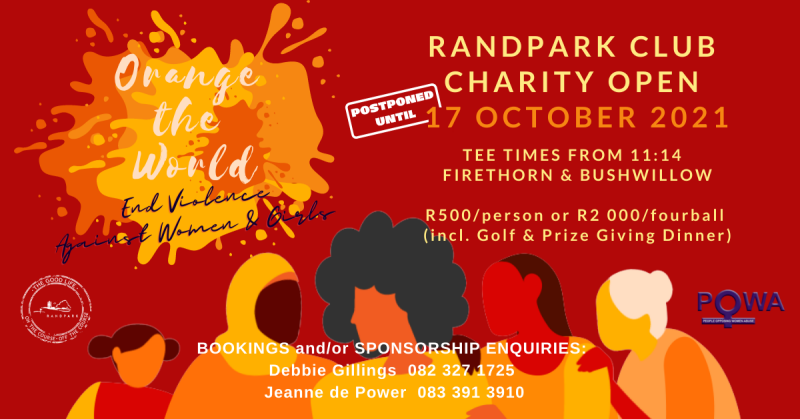 This Week's Food Specials


Sit down or take-away from 5 pm to 8 pm. Take-aways must be ordered with your service host.



Mom's Night Off on Tuesday


Creamed Pasta Alfredo

R65


With mushrooms and gammon, served with grated Parmesan and crushed garlic
Beef Cottage Pie

R80


Baked savoury mince topped with creamy mashed potatoes, served with a Greek salad and mild dressing
Seafood Basket

R140


Served with Randpark's famous homemade chips and lemon mayo dipping sauce



Thursday's Curry Night


Chilli Beef & Tomato Curry

R110


Served with fragrant rice
Thai Green Chicken Curry

R90


With fresh coriander leaves, coconut milk, served with fragrant rice
Vegetable & Potato Curry

R65


Mild and spicy, served with Basmati rice
Tamarind Sauce Fish Curry

R90


Tangy and sweet curried fish, served with fragrant rice
All curries served with sambals, chutney, sliced banana and mango achaar

You can also order your Club-favourites from Monday to Saturday between 11 am and 7 pm and Sunday between 11 am and 4 pm for take-away collection.

Click here

to view our take-away menu. Contact

011 215 8600

to place your order.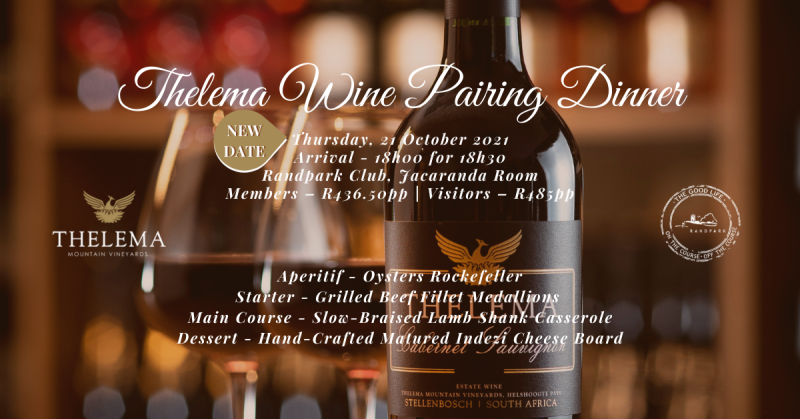 Click here
to book your table and

click here

to view the menu.

Have a great week
Stay Safe, Healthy & Happy!
The Randpark Team
This mail was sent to {{contact.contact_email}} by Randpark Club and is provided as a service for the members and guests of Randpark Club and has been supported and sponsored by advertisers in this email and our partner suppliers. For any queries contact us on 011 215 8600.

Sent on behalf of Randpark Club by
RetailTribe: Unit 8 | Blaauwklip Office Park | Stellenbosch | 7600 | 021 880 2693