The mental secret for consistency
Performance Tip of the Week
By Mark Fairbank, BSI Mental Coach and Head of Golf Performance
"I want to be consistent" is the most common request that amateur golfers have of their coach, it's the hunt for consistency that sells buckets and keeps flood lights on at ranges. While lessons with your local PGA Professional and hitting more balls a day than Vijay Singh will, as logic tells us, lead to an improvement in your swing, it is not the real key to consistency in performance on the golf course. This is because the game of golf, by nature, is inconsistent.
If you need help with improving your consistency, please get in touch with us.
Another great week of golf
BSI Tournament Results
Congratulations to David Harrold for his back-to-back win in the BSI Golf Premier Medal with a 4-under score of 68 on Royal Johannesburg & Kensington East Course played on Friday, 25 March 2022. David's golf seems to be getting better and better every week as the score of 68 is now the personal best for the year in a BSI tournament. David is definitely raising the bar, which is a good thing as it creates a higher standard for himself and his fellow BSI golfers. Keep it going David and dare we say three-peat with the 72-hole competition this week?

Personal bests from the BSI Golf Premier Medal:
Tiaan van Wyk 81
Gerhard Botha 81
Cara Bosman 83
Our students are flying the BSI flag high
External Tournament Results
Big Easy IGT Race to Q-School #8
Great three rounds of golf by Ryan Estment (-1) which saw him take a joint 14th-place finish and a 7-over, by Jordan van Niekerk (T38) at last week's Big Easy IGT Race to Q-School played at Riviera on Vaal.
Central Gauteng Race to River Club

Kyalami GC
Congratulations to Vuyisani Makama for his 2nd place finish (-3) in the CGGU Race to River Club Tournament played at Kyalami GC on Thursday, 24 March 2022. Great playing to also finish in the top 10 by Pranay Kapur (+2) for T5 and in T8 – Grant Labuschagne (+3).

Other BSI notables:
T15 – Jonathan Henry
T26 – Tawriq Abrahams
T36 – Nathan Whibley
Congratulations to Eric Ncube for finishing T2 with a level par score at the CGGU Race to River Club played at Modderfontein GC. Well done also to Tawriq Abrahams for his T8 place and his eagle 2 on the par 4 11th hole. BSI had four students finish in the Top 20. Great play by all our students.

Other BSI notables:
T15 – Pranay Kapur
T19 – Nathan Whibley
T32 – Jonathan Henry
Well done to Ethan Joseph who last week played in two US Kids Golf events in the Boys 15-18 category and finished 3rd place in both events. Keep up the great work, Ethan.
| | |
| --- | --- |
| | Let's get to know our partners in the game |
Our partner acknowledgement for this week is Royal Johannesburg & Kensington GC. This prestigious club is our longest standing partner, having been our home club for on-course play since 2007. In this interview we chat to Golf Director Liam Brown about the association with BSI, how our students utilise the golf courses as playing members and a few graduates who have moved on to being staff members.
Royal Johannesburg & Kensington East Course 13th Hole
Announcing our latest Golf Open Day on Saturday, 14th May
We'll be showcasing the following programmes:
- Junior Academy with schooling
- PGA Diploma
- Greenkeeping
- Sports Management
- Elite Academy

You'll be able to view the academy in action on a campus tour, and chat to staff and students for all your questions answered. Booking is essential at info@bsisports.com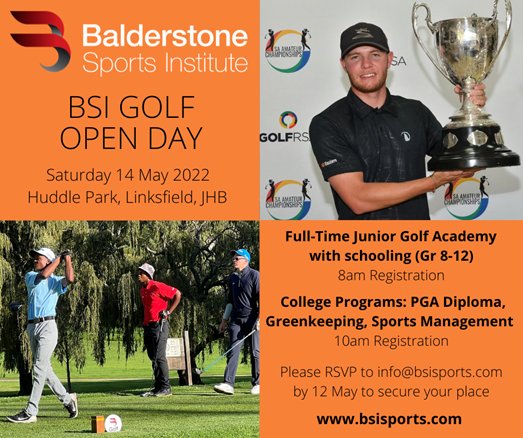 Need to gear up?
Online shop
Go to our online shop to view and purchase your BSI gear and services.
| | |
| --- | --- |
| | Not just golf |
| | BSI Football Open Day - 14th May |
Join us for a tour of the BSI Football Campus, hear about our world-class programmes, meet our professional coaches and chat directly to our players.

We'll be showcasing the following full-time programmes;
- Youth Development Programme (including high schooling)
- Elite Development Programme

No need to book. For questions or more information please contact Eurico at football@bsisports.com.
Catch up on our previous newsletters and re-familiarise with our performance tips.
| | |
| --- | --- |
| | Thank you to our sponsors |
Your perfect playing partner

Your golf ball is with you from tee to green. And if you've got a moderate swing speed, you need added distance on longer shots and softer feel on shorter shots. The low compression Srixon Q-STAR TOUR could be your perfect playing partner.





This mail was sent to {{contact.contact_email}} by Michael Balderstone and is provided as a service for the members and guests of Balderstone Sports Institute and has been supported and sponsored by advertisers in this email and our partner suppliers. For any queries contact us on 082 448 0753.

Sent on behalf of Balderstone Sports Institute by
RetailTribe: Unit 8 | Blaauwklip Office Park | Stellenbosch | 7600 | 021 880 2693