In an ongoing effort to ensure the Club is getting the best value for money and ensuring our members, visitors and staff's safety, we will be reviewing our access control and security at the Club. We would like to invite any member who has affiliation to a security company to join Albert for a briefing to present a detailed proposal.

Please send through your contact details to gm@randpark.co.za before COB Friday, 11 March 2022.

Yet again, the weather played its part over the weekend. The morning started off a little bit overcast and the weather seemed to be holding up, but mother nature had different plans and for the 4th Saturday this year the field was interrupted by rain and lightning. A few cells kept moving over and play was suspended a couple of times.

We would like to remind our members that in the event that you hear one long siren the competition is immediately suspended and players must stop playing. The manager on duty and available committee member will evaluate the weather to see how long the delay will be. In the event that the delay is too long, like Saturday afternoon, the competition will either be called off or will count over 9-holes if the whole field has turned. Players are reminded not to continue to play in the event of lightning, and may only start play again after two short sirens. Below is an image of our lightning system:

The first cells that came into our 13km radius: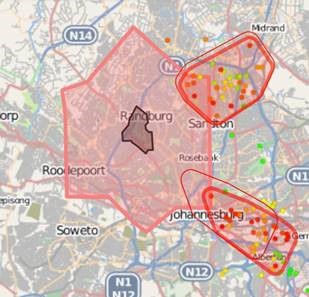 The afternoon competitions were cancelled including the Ladies Beckwith trophy event.

The Mid-Am league waited out the weather to finish their round and the results were as follow:
Firethorn Mid-Am side vs Eagle Canyon – Firethorn won 4.5 – 3.5
Bushwillow Mid-Am side vs Jackal Creek – Bushwillow won 7 – 1
Junior & Graduate Club Championships – 13 March 2022

Entries for the Club Champs will close today. The draw will be completed by Wednesday and will be published in the newsletter on Thursday and on the member's noticeboard downstairs.

Included:
36-Holes of Golf.
Warm-up Buckets at the Range with Inrange.
Sponsored Hospitality Station.
Prize-Giving:
We would like to invite you and your family for prize-giving on Sunday, 13 March from 17h00.
Chef specials will be available for purchase on the day.
Tournament Conditions:
Only entries booked & paid online will be accepted.
Entry Fee per player : R260
Green Fees as per membership category
Please click here to book

Sponsored by

Driving Range Update

Due to a shortage of driving range balls from our suppliers and delayed shipments, we are currently running on a very low number of balls. We will do our best to ensure we provide balls as best as we can, but from time to time members might be requested to only hit 50 balls at a time. This is to guarantee we assist all players wishing to make use of the driving range. We do apologise for the inconvenience caused.
Thank you to everyone who took part in our competitions this week and congratulations to our winners. Take a look at the latest results.
Upcoming Club Competitions
View this week's Competition Schedule for both Bushwillow and Firethorn in the link below.
Please be advised that our hosting provider will be performing server maintenance on Tuesday, the 8th of March between 4am and 5.30am. The website booking platform and Randpark App will be inaccessible during this period. We thank you for your understanding and apologise for the inconvenience caused.
Joker Raffle & Member Attendance Draws
Congratulations to the following winner of the Joker Draw:
AM Joker Draw winner: Craig Dixon – No Joker was drawn but Craig won a R300 credit on his membership card
PM Joker Draw: Draw cancelled
AM Member Attendance draw winner: No Winner
PM Member Attendance draw: Draw cancelled
Purchase your tickets (one for R10, six for R50 and fifteen for R100!) from Vern on Saturday between 12.00 and 14.00 & 16.00 and 18.00.

Joker Draws sponsored by
Greg (Pops) Collier-Payne
International Money Transfer Specialist
083 297 1076

Member Attendance Draws sponsored by
We are one week into our Shrinking Target Challenge and things are heating up! Who's leading the pack?
Jean Pierre Coetzee
Mik
Donovan Edeling
Lexie Plus Fam
Mathew Muller
Jason Stevens
– 5400
– 2200
– 2100
– 2100
– 1900
– 1800
It's not too late to enter – the Challenge runs until the end of March.
Have a great week
Stay Safe, Healthy & Happy!
The Randpark Team
This mail was sent to {{contact.contact_email}} by Randpark Club and is provided as a service for the members and guests of Randpark Club and has been supported and sponsored by advertisers in this email and our partner suppliers. For any queries contact us on 011 215 8600.

Sent on behalf of Randpark Club by
RetailTribe: Unit 8 | Blaauwklip Office Park | Stellenbosch | 7600 | 021 880 2693