Friday, May 14, 2021







Thank you to all those who supported our 'British Open Day' competition on Sunday. The final round of The Open is always such a special day and as the team in the shop, we wanted our members to enjoy it at the golf club – we hope you had a great day! Well done to Mathew for initiating this event – we hope it will become an annual fixture!


Thank you to our partners TaylorMade for sponsoring a sleeve of golf balls for all the participants. For those who don't normally play the TaylorMade ball, please let us know how you enjoyed the golf balls provided. Further thanks to Srixon and Callaway for sponsoring some prizes too.

Both Stella Artois and Scottish Leader whisky supported the day and everyone enjoyed some fish and chips, while they settled in to watch the golf in the bar after their game.

The individual winner on the day was Peter Eaton who scored a fantastic 42 individual stableford points. We then had a Bonus Comp whereby each one of our players drew a British Open competitor. We then worked out their betterball score for Sunday with their respective professional partner.

If the pro made 3 points on the first at Birkdale and his Met partner made 2 points on his/her first hole in Mouille Point, their betterball score was 3 points for that hole, and so on.

The winner of the betterball competition was Alfred Kasi who scored 48 points with his drawn partner – none other than Jordan Spieth! Jordan only shot –1 for his round on Sunday but the damage was done from holes 12 – 17 where they "dovetailed" fantastically. Over this stretch they made four x 3-pointers and 2 x 4-pointers.

This was enough to see them edge out Grant Buser and Rory McIlroy who made 47 points. Alfred wins himself a limited edition TaylorMade British Open standbag. Jordan won a R50 voucher for the Met shop. We did get the message through to his agent and Jordan being the consumate professional, let us know that we should just "keep it in the folder". What a day for Jordan – the claret jug and voucher from the Met!

For the full list of betterball scores, click here.



There's not much more one can say about Spieth. The guy is never beaten and no-one putts better from 10 feet – 30 feet when it counts. Tiger was the best in his day from inside 10 feet, but Spieth is on another level outside 10 feet.

It was a fantastic tournament and good to see Branden Grace continuing to play well in the Majors.



The winner of a R 2500 voucher in our shop sweepstakes was Freddie McLennan!

I bumped into Freddie on a flight to George last week and he was sadly working in the area, rather than playing on some of those great courses – Freddie this will cheer you up!



As mentioned previously, we handed out a sleeve of TaylorMade golf balls to each player on Sunday. If that player didn't already play TaylorMade, we tried to provide them with a golf ball that suited their game and was equivalent to what they currently play.



I had quite a few discussions with the members on the different golf balls on offer, how it would differ from their current ball, what is actually best for them, and so forth.



The likes of TaylorMade and Titleist are actually now saying that their top-end performance golf balls are suitable for all golfers at every level. This goes against the common perception that these golf balls are designed for Tour players with high swing speeds.

To clear it up a little, the Tour pro will get better performance out of a TaylorMade TPx, than they would out of a 60-compression Lady Burner.

Many of the softer balls are low-spinning balls that are designed to give the average golfer (who doesn't swing the club at high speeds) more distance but not take away that 'nice' feel of a softer ball. As the famous line goes…"if you hit your 7-iron 110 metres, why do you want backspin?!"

However, that TPx ball is amazing from 100 metres and in. If you have the ability to consistently hit crisp pitches, wedges, bunker shots, etc., then it makes sense that the better player will have more control of the high performance ball in the scoring zone, than they would from a low spinning ball.

So it comes back as always to what you want from your ball. If you love the low-spinning, soft-feeling golf ball and don't think you'll get much better control with a higher-spinning tour performance ball, then why pay for the additional technology? You may be "in-between" and want a little bit of both – then go for a ball like the highly underrated TaylorMade Project a.

I had this type of conversation with Mike Snyman on Sunday. Mike is 'middle-aged' and plays off 17. Mike, we've got a complimentary sleeve of TaylorMade TP5x golf balls waiting for you in the shop when you play your Thursday game. We need you as a guinea pig!

In theory, this shouldn't be the best ball for you but we'd like to hear what you say. Maybe you don't notice any difference whatsoever.

This would also provide important feedback for us. If this is the case, it would never be worth you spending on a premium golf ball like this. Please collect on Thursday and let us know!

Go here to see the difference TaylorMade's ball development is making to golfers, from beginners to Pros.


Back in the day, we played the Top-Flite XL or the Pinnacle Gold – that thing was like hitting a rock, but we loved it at the time! I don't think there is anything that feels like that on the market anymore!



Following on from our

discussion

of TaylorMade in the section above, we have a great offer to bring to your attention. We have a TaylorMade M1 driver, hardly-used, in store (the player progressed to the latest 2017 model).

Read more

to see why the M1 Driver from TaylorMade has made such an impact on golfers, whether Pros or beginners.



There is a stiff shaft or regular shaft we could also fit for you. Come and give it a try.



For a decent price of R 3000, this is a very effective driver to have on the course with you. Click here to to reserve a 'test-drive', or call 021 430 6015 today.









Results for the week of 17 July – 23 July 2017



Monday - Monday School


3 Ball Alliance, 2 scores to count

Neville Walker, Johan De Villiers, 81
Mike Wolffe



Tuesday - Ladies Competition


No Competition
No competition took place



Wednesday - Social Competition
4 B.B.B Stableford, 2 Score To Count
Shaun Stevenson 41



Thursday - Members Competition
4 Ball Bogey Plus Alliance
Keith Broad +9 c/i
Williams Hughes



Saturday (AM) - Members Competition
4 B.B.B. Stableford. 2 Score To Count On Par 3's


Hein Kriek, Craig Ward 53



Saturday (PM) - Members Competition
4 B.B.B. Stableford. 2 Scores To Count On Par 3's
Willem Van Der Maiden, Allan Van Zyl 56



Sunday
British Open Competition
Individual Stableford
Peter Eaton 42








13 Handicapper adds 26 metres to his #6 Iron

A story, published in Golf Digest, told of a 13 handicapper who added 26 metres with his #6 Iron, after a fitting. You'd be amazed what the combination of shaft, shaft length, lie angle and design can do for your ability to hit solid, and long Iron shots.










The proven impact of Random Practice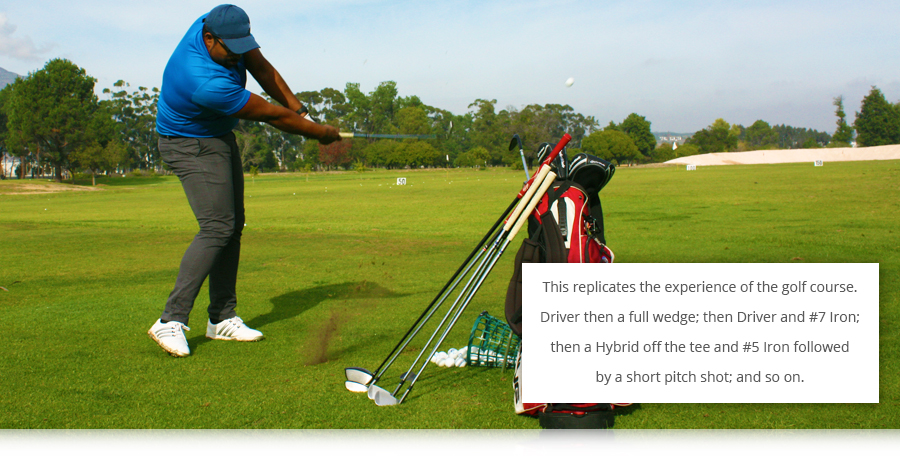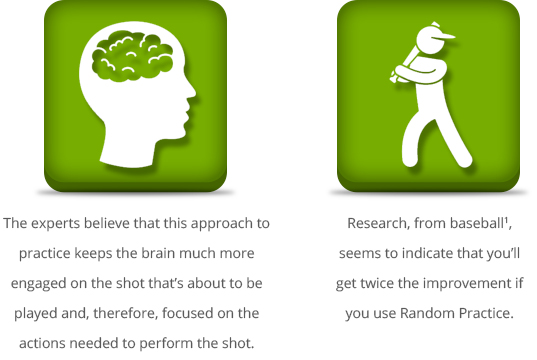 ¹ One group of baseball hitters practised by first facing a group of fast balls; then moved on to curve-balls; then moved on to knuckle balls. The second group used Random Practice mixing up the different balls. The second group improved their hit rate in play by 57% on average; while the first group only showed a 25% improvement on average.


Let's make sure that you're getting the full benefit from the time you spend practising. You'll hit more good shots.













This mail was sent to {{contact.contact_email}} by Brad Forge and is provided as a service for the members and guests of Metropolitan Golf Club and the customers of the Metropolitan Golf Club Pro Shop and has been supported and sponsored by advertisers in this mail and my partner suppliers:

To ensure delivery, please add metropolitanproshop@greensidegolfer.retailtribenews.com to your contacts.

RetailTribe: Unit 8, Blaauwklip 1 | Blaauwklip Office Park | R44 | Stellenbosch | South Africa | +27 (0)21 880 2693