I hope everyone has had a chance to get out these past few days to play a round of golf or two. Probably not the best start to a season we have had, but spring is here!

With the weather better now I have had a chance to work with many of my students. We have concentrated on posture in three areas of the golf motion: set up, top of swing and impact. Poor posture in any of these areas doesn't mean you can't hit good shots, it does mean however, you will find it very difficult to be consistent in your shot patterns.


When you look at this student in the above video watch these 2 things:

1. Does he stand up on the back swing? (Did his head raise up?) – YES
2. Did he pull away from where he started at impact? (Raise up?) – YES

I hear people say all the time, "I keep raising/lifting my head". I then watch them set to the ball with their chin way down, in hopes that this will fix the standing up issue. I'm sorry to report that the reason you raise up probably has nothing to do with your head. Go back to above video and tell me if his right leg totally straightened on the backswing? You should notice that it in fact it does, which means he had to get taller on the back swing, overswing to the top and then dip back down in hopes of finding his starting point at impact. This is a lot to accomplish correctly, in the one and half seconds the swing takes to complete.

Here is the same student after 30 minutes of posture work...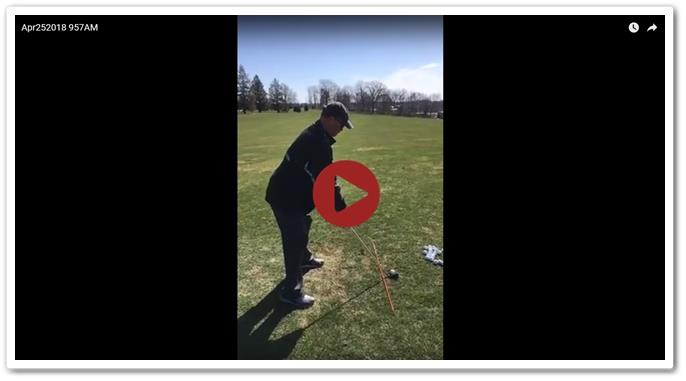 What you should now see is, because the right leg stays more flexed on the back swing, he can't overswing, his head no longer raises up until after impact, and the ball is hit before the club head touches the ground.

Concentrating on good unchanging posture will lead to a lifetime of more consistent shots. Contact us if we can help you fix your golf problems.


South Hills is joining forces with Operation 36 to bring golf into your juniors' lives, one step at a time,
in a fun environment!

Operation 36 is a program where coaches, juniors, and parents all work together to
develop a youngster into a better golfer and person.

We are offering the 2 different levels.
Click the images below for full details, but contact either Zach or Monte for all questions.

Monte Meyer ~ 319-493-2008
Zach Ward ~ 319-464-7590



And the fun doesn't have to stop there.
If you are an adult looking to learn or improve in a fun, social environment...






South Hills High School Series



This series provides high school golfers an opportunity to keep playing during the summer months while improving their confidence in a team atmosphere. These kids get a chance to carry over high school competitiveness into the summer against teammates and other areas' kids. They will be playing as two-person teams each week and their partners will change weekly. The cost is $10.00 per week for a green fee or free if they have a season pass.

Every Friday starting June 22nd starting at Noon. Attendance isn't mandatory but rather come when you can.



Call 291-4268 to sign up or for more information



PGA Junior League: 8 – 13 (Can't turn 14 before August 1st, 2018)

Having Fun with Your Friends.... PGA Junior League.

We had a great first year of PGA Junior League in 2017. Nine kids competed in 5 matches during last summer while having a blast making new friends, playing golf and learning life skills. We are excited for the 2018 season to start and are hoping for 20+ so we can have twice the fun.

PGA Junior League is a fun, social and inclusive opportunity for boys and girls to learn and enjoy the game of golf from PGA Professionals. Like many other recreational youth sports, participants wear numbered jerseys and play on teams with friends.

South Hills Golf Course is looking for kids ages 8 to 13 that want to have fun this summer. We will hold practices starting in May, and will be playing 4 to 6 matches starting in June and concluding July 31st. Our teams do travel to Cedar Rapids and Iowa City area.


The cost for the program is

$175.00

.

Ready to sign up? Then click here

Click here for more information about the program




Cedar Valley United Way Golf Classic
June 15th
1:00 pm shotgun start

4 Person Best shot with 8 inch cups
$125.00 per player and includes:

o Green fee
o Cart
o Dinner
o $50 gift card to Scheels
o 4 flights
o Pin events

We are limited to the first 36 paid teams and this event fills quickly.
Register your team by contacting John Padget;
or call
319-235-6211 Ext 12.