Simplify your short game
A wedge chart helps


You want to hit closer wedge shots more often with greater ease. If you can control your distance, you create more opportunities for birdies and par saves. Let's help you achieve this by simplifying your short game with the use of a wedge chart.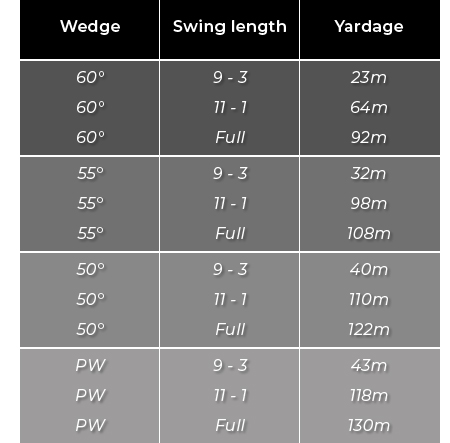 A 'wedge chart' is an accurate recording of the distance each wedge travels depending on the length of your swing. Wedge charts are used by the majority of Tour Pros, yet no one really encourages amateur or club golfers to use them.
Making your wedge game easier
Understanding the importance of precision on approach shots using a wedge chart is your first lesson to a better short game and becoming a wedge guru. You may think you are not good enough for a wedge chart,
but they really work for any level of golfer.
Contact us >