If you're a coach and you want more students, then start by inspiring more golfers to want to improve.

Consider how someone who runs a clothing boutique has to attract potential customers to walk into their shop and engage with them. Think about a hairdresser, or accountant, or lawyer.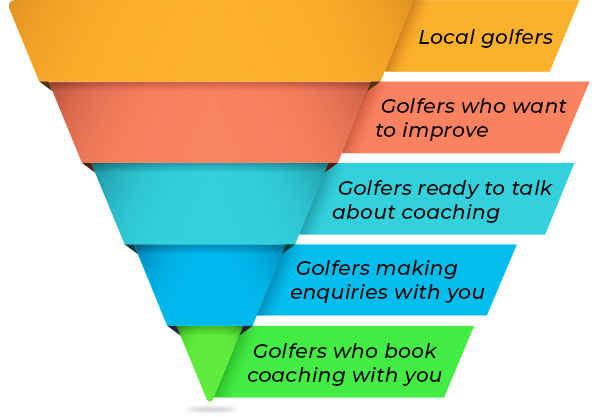 If you're at a golf club, potential customers golfers are coming to you every day. On most Saturdays probably more than 120.


If you had to spend 3 minutes with each of them playing a particular golf shot, how many could you convert into a 30-minute swing
assessment or even a coaching session?

If you had to send 120 emails, how many could you convert into an assessment or coaching program?

If 120 people saw a social post, how many would respond to an offer of assessment or coaching program?





Subscribe
Legally Privileged Disclaimer
Internet communications are not secure and therefore RetailTribe does not accept legal responsibility for the contents of this message. The information in this email and any attachment to it is confidential and is intended for the addressee only. Any unauthorised disclosure, use or dissemination of the contents in part or whole is prohibited. If you are not the intended recipient please return it to the sender and delete it. Any views or opinions presented are solely those of the author, and do not necessarily represent those of RetailTribe unless otherwise specifically stated. This email and attachments have been screened and are believed to be free from any virus. However, it is the responsibility of all recipients to ensure that they are virus free. This email was sent to you by RetailTribe. RetailTribe will not accept any liability for any damage caused by a virus. If you no longer want to receive this email, please
unsubscribe here
.