I find that the best ideas have already been invented by a PGA Professional somewhere.

If you have a Pro Shop, have you been to Haggin Oaks in Sacramento, northern California?

If you haven't, then, wherever you're based in the world, reach out to the Morton family, and ask if you can visit. One of the most important days in my personal development in the golf industry was spent with
Ken Morton, Sr. (and his sons) learning about the Haggin Oaks
retail operation.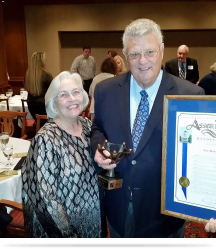 Ken Morton, Sr.

The nicest, humblest, but greatest retailer in our industry.
This is large scale. A huge selection. Sales you wouldn't dream were possible from a golf course Pro Shop.

But as large scale, as it is, this business has been built one customer, one relationship at a time. And then, the relationship is nurtured.

It's not an "if I see you again" relationship. It's not a "wait behind the counter" relationship.

Ken showed me how, by using 'active customer management' with outreach, they generate several hundred thousand dollars of sales of one brand from just 100 sq feet (10 sq m). They take that approach with
thousands and thousands of customers.

What an education I received. I am eternally grateful for the time you've given me, Ken.

And I'm especially grateful that you validated the thinking that golfers want to be led by a professional they consider to be their expert-guide.

If you want to sell equipment from a Pro Shop, stop thinking about how you can merchandise equipment in your shop or how you can sell
equipment. Start thinking how can I engage with golfers and show them equipment adding value to their playing experience. And remember you're the expert-guide building relationships.

If you have had success using planned engagement to create equipment sales or students for your coaching programs, please let us know. We want to tell your story.





Subscribe
Legally Privileged Disclaimer
Internet communications are not secure and therefore RetailTribe does not accept legal responsibility for the contents of this message. The information in this email and any attachment to it is confidential and is intended for the addressee only. Any unauthorised disclosure, use or dissemination of the contents in part or whole is prohibited. If you are not the intended recipient please return it to the sender and delete it. Any views or opinions presented are solely those of the author, and do not necessarily represent those of RetailTribe unless otherwise specifically stated. This email and attachments have been screened and are believed to be free from any virus. However, it is the responsibility of all recipients to ensure that they are virus free. This email was sent to you by RetailTribe. RetailTribe will not accept any liability for any damage caused by a virus. If you no longer want to receive this email, please
unsubscribe here
.