Our game appears to be based on a status pyramid that we maybe ought to rethink.

In so many different ways, golf operates on a 'pyramid' status model. Top 10 golf courses. Top 10 players. Top 10 coaches. And then we have it at the state or provincial level. We have it by estates, public, member clubs, etc.

Do you think we might even do that within our clubs? There's four
'characters' who dominate our thinking. Usually male. Actually, almost always male:

'Everyday Eddie'; 'Regular Ronnie'; 'Larry League'; and 'Solid Steve'. These are the golfers that play the most. They have their regular fourball and time. They're at the top of our pyramid.

Our scheduling reflects that. The pinnacle of the golf year is the Club Championship. The pinnacle of the week is Saturday.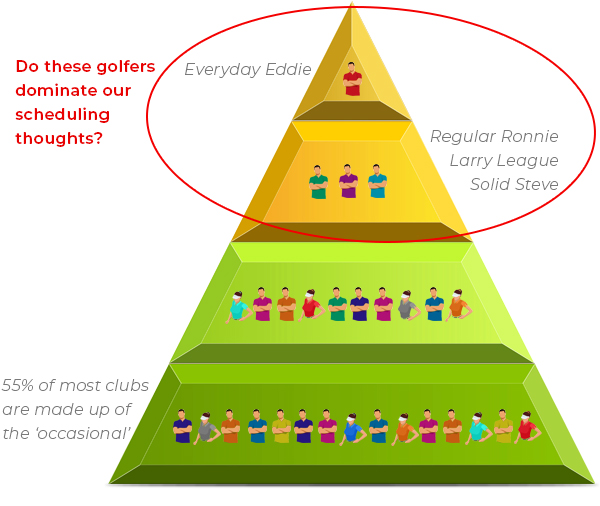 The question I have for you (I don't know the answer, so I'd appreciate your response). Are your additional rounds we're seeing played through the week, your regular golfers playing more frequently, or is it made up of the occasional golfers playing more golf?



Subscribe
Legally Privileged Disclaimer
Internet communications are not secure and therefore RetailTribe does not accept legal responsibility for the contents of this message. The information in this email and any attachment to it is confidential and is intended for the addressee only. Any unauthorised disclosure, use or dissemination of the contents in part or whole is prohibited. If you are not the intended recipient please return it to the sender and delete it. Any views or opinions presented are solely those of the author, and do not necessarily represent those of RetailTribe unless otherwise specifically stated. This email and attachments have been screened and are believed to be free from any virus. However, it is the responsibility of all recipients to ensure that they are virus free. This email was sent to you by RetailTribe. RetailTribe will not accept any liability for any damage caused by a virus. If you no longer want to receive this email, please
unsubscribe here
.