Our game appears to be based on a status pyramid that we maybe ought to rethink.

One of the responses to my question yesterday ("who is playing all the extra rounds") reminded me of a challenge I had last year in a "revenue workshop" we were running. We were going through different options to move the golfers who were more occasional into becoming more regular. One of the participants at this workshop argued that:

"We don't have room for more golfers, or for our less committed golfers deciding to become more committed. We have a serious compaction problem on Saturdays."

That is "pyramid" thinking.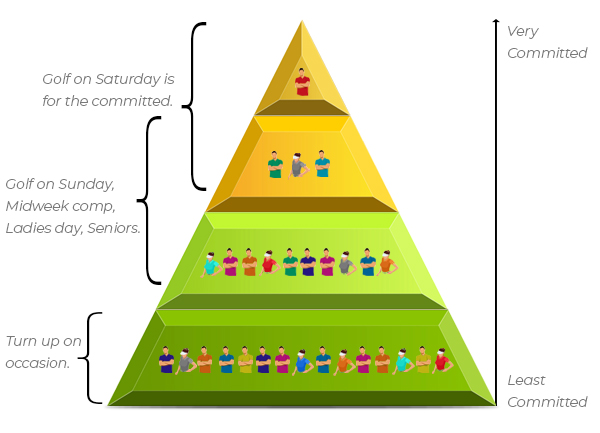 I am NOT saying that Saturday SHOULD BE the highlight of our week, just as I'm NOT saying that male characters like 'Everyday Eddie', 'Regular Ronnie', 'Larry League', and 'Solid Steve' SHOULD dominate our thinking.

I'm saying in too many cases Saturday DOES dominate your thinking and that 'Everyday Eddie', 'Regular Ronnie', 'Larry League', and 'Solid Steve' DO dominate your thinking.

That is why the Director of Golf, with support from his colleagues, was challenging the argument that we need to get more of the 55% of occasional golfers to become more committed to the game.

In his thinking that would be more golfers wanting to play in the club highlight: Saturday.

For him considering the addition of 'Everyday Erica', 'Regular Rosie', 'Liza League', and 'Solid Sandy', wasn't a "gender challenge" (please hold any cynicism about that); it was a very real fear of managing too many golfers, whatever their gender, wanting to squeeze onto the tee-sheet.

My proposition is that if all we do is see our game as a "status pyramid" where Eddie & Erica, Ronnie & Rosie, Liza and Larry, and Sandy and Steve, (our characters above) and the Saturday field, dominates how we see our week, then the flood of rounds we are now experiencing, will recede.



Subscribe
Legally Privileged Disclaimer
Internet communications are not secure and therefore RetailTribe does not accept legal responsibility for the contents of this message. The information in this email and any attachment to it is confidential and is intended for the addressee only. Any unauthorised disclosure, use or dissemination of the contents in part or whole is prohibited. If you are not the intended recipient please return it to the sender and delete it. Any views or opinions presented are solely those of the author, and do not necessarily represent those of RetailTribe unless otherwise specifically stated. This email and attachments have been screened and are believed to be free from any virus. However, it is the responsibility of all recipients to ensure that they are virus free. This email was sent to you by RetailTribe. RetailTribe will not accept any liability for any damage caused by a virus. If you no longer want to receive this email, please
unsubscribe here
.