Our game appears to be based on a status pyramid that we maybe ought to rethink.

Does "pyramid thinking" even restrict how we think about the format of events we schedule? Does it influence the priority or emphasis we give specific formats? Do we see the Tour stroke-play as the pinnacle?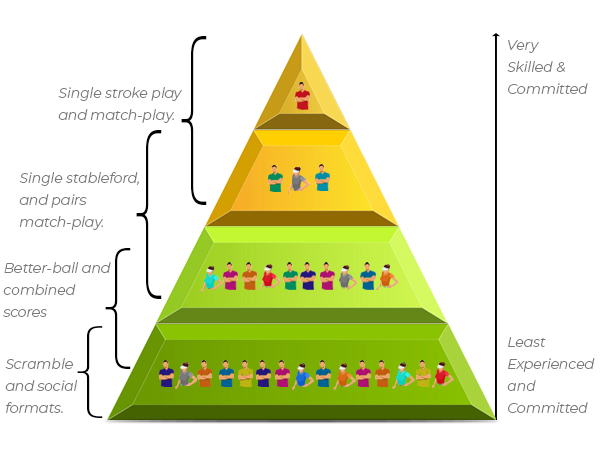 I was once asked: "can I mark a lady who plays every month in our 50-yard 'hit and giggle' as a regular golfer?". Ask it another way: "Is 'Jilly Giggle' as important as 'Regular Rosie'?"

Can you see the challenge with status in that question? Can you appreciate the potential danger in that question?

Can you see how that question might mean that we keep building propositions that favor 'Everyday Eddie'; 'Regular Ronnie'; 'Larry League'; and 'Solid Steve'; and, if we're innovative: 'Everyday Erica'; 'Regular Rosie'; 'Liza League'; and 'Solid Sandy'?



Subscribe
Legally Privileged Disclaimer
Internet communications are not secure and therefore RetailTribe does not accept legal responsibility for the contents of this message. The information in this email and any attachment to it is confidential and is intended for the addressee only. Any unauthorised disclosure, use or dissemination of the contents in part or whole is prohibited. If you are not the intended recipient please return it to the sender and delete it. Any views or opinions presented are solely those of the author, and do not necessarily represent those of RetailTribe unless otherwise specifically stated. This email and attachments have been screened and are believed to be free from any virus. However, it is the responsibility of all recipients to ensure that they are virus free. This email was sent to you by RetailTribe. RetailTribe will not accept any liability for any damage caused by a virus. If you no longer want to receive this email, please
unsubscribe here
.