Our game appears to be based on a status pyramid that we maybe ought to rethink.

In turning the pyramid, it doesn't mean that we neglect in any way our committed or competitive Saturday morning golfers who enjoy 18-holes of stroke-play or Stableford.

It just means we start to recognize other golfers and their needs as well.

What events and activities would keep 'Learner Louise' or 'New Nigel' committed to the game and a journey? What event would get 'Occasional Ollie' or 'Monthly Mary' or 'Family Frank' to participate once a week?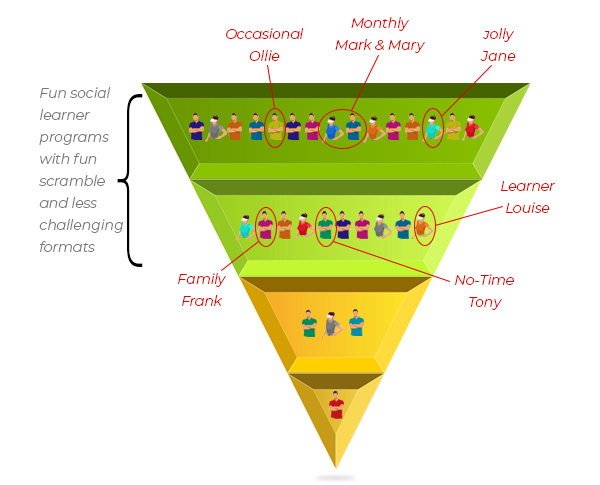 If you create fun and a buzz at these events, then do not be surprised when 'Everyday Eddie'; 'Regular Rosie'; 'Larry League'; and 'Solid Sandy'; put their names down.

No-one wants to miss out on a social buzz at any golfing event. Whether you're trying to hit a tee shot or hit a 40-yard pitch as part of a 9-hole hit and giggle, there are challenges and accomplishments, benchmarks to be challenged, and skills to be honed.

And along the way, rather than beating out solitary miles on a treadmill on a Thursday evening, we're in the healthy outdoors, with family or friends or making new friendships, and having fun. Every golfer wants that.




Subscribe
Legally Privileged Disclaimer
Internet communications are not secure and therefore RetailTribe does not accept legal responsibility for the contents of this message. The information in this email and any attachment to it is confidential and is intended for the addressee only. Any unauthorised disclosure, use or dissemination of the contents in part or whole is prohibited. If you are not the intended recipient please return it to the sender and delete it. Any views or opinions presented are solely those of the author, and do not necessarily represent those of RetailTribe unless otherwise specifically stated. This email and attachments have been screened and are believed to be free from any virus. However, it is the responsibility of all recipients to ensure that they are virus free. This email was sent to you by RetailTribe. RetailTribe will not accept any liability for any damage caused by a virus. If you no longer want to receive this email, please
unsubscribe here
.