Our game appears to be based on a status pyramid that we maybe ought to rethink.

We've looked at turning the status 'pyramid' of golf upside down and paying more planned attention to those golfers who're less active, less experienced, and probably not as connected to the game, club,
and community.

But upside down, it's NOT a pyramid anymore. It's a funnel.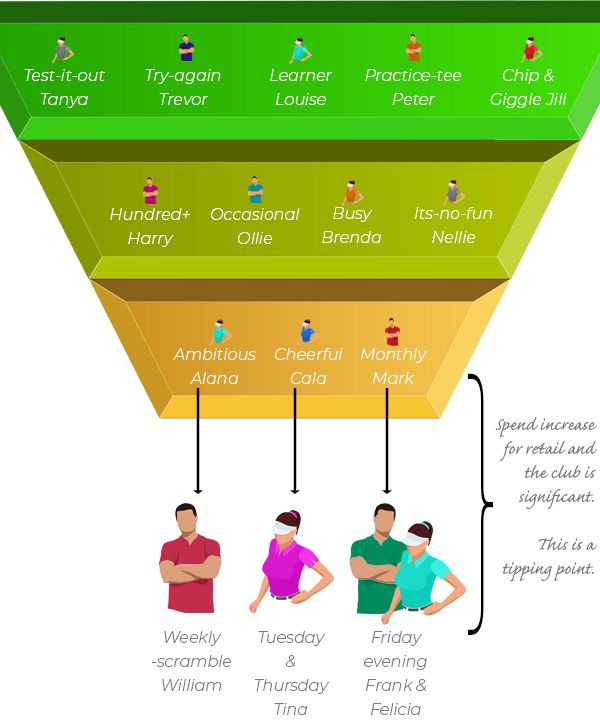 Given the massive benefit to the club and the industry of us managing golfers down this funnel to this tipping point, do you think:

a) We do enough to manage these CUSTOMERS on their journey?
b) Create enough playing value for them at the club?




Subscribe
Legally Privileged Disclaimer
Internet communications are not secure and therefore RetailTribe does not accept legal responsibility for the contents of this message. The information in this email and any attachment to it is confidential and is intended for the addressee only. Any unauthorised disclosure, use or dissemination of the contents in part or whole is prohibited. If you are not the intended recipient please return it to the sender and delete it. Any views or opinions presented are solely those of the author, and do not necessarily represent those of RetailTribe unless otherwise specifically stated. This email and attachments have been screened and are believed to be free from any virus. However, it is the responsibility of all recipients to ensure that they are virus free. This email was sent to you by RetailTribe. RetailTribe will not accept any liability for any damage caused by a virus. If you no longer want to receive this email, please
unsubscribe here
.