"'Active Merchandising' is going to be the future of real-world retail."

The sound that sells


In the stand in your shop, the putter makes no sound. That's a pity because there is no better sound than a golf ball dropping (although now we're getting used to the sound of it gently hitting the flagstick). If, every time a golfer walked by the stand, it made the sound of a golf ball dropping, then maybe golfers would stop and notice. While we wait for that technology, one professional decided to bring that sound to life and sold 11 putters and over 100 sleeves of golf balls. All you need is 10 feet.



Expertise matters more than ever
As the retail world goes through fundamental and systemic change, the traditional big dogs are at a disadvantage – for the moment.

They've almost always got a large physical footprint with high rentals and a 'system' that is optimized to remove all costs (including expertise) so that they can support large inventory investment and low margins.

The online world offers an even wider choice, without such large
investment in real estate and even less staff, so that they can cut margins further. They try and make 'expertise' available online.

In the age of miss-information, that 'expertise' or 'testimony' has become more critical than ever before. The shopper wants a 'solution', not a product. Expertise is vital.

How do you demonstrate your expertise? I see lots of emails that talk about 'product'. I see lots of emails that talk about 'price'. What the reader wants to know is how will your 'expertise' make them better.
That's why we invest so heavily for our customers in creating content that reveals both the requirement for an individual solution, and the expertise of a PGA Professional.

It's what the golfer wants.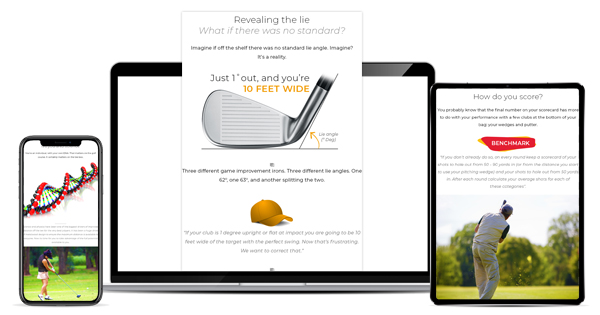 Subscribe
Legally Privileged Disclaimer
Internet communications are not secure and therefore RetailTribe does not accept legal responsibility for the contents of this message. The information in this email and any attachment to it is confidential and is intended for the addressee only. Any unauthorised disclosure, use or dissemination of the contents in part or whole is prohibited. If you are not the intended recipient please return it to the sender and delete it. Any views or opinions presented are solely those of the author, and do not necessarily represent those of RetailTribe unless otherwise specifically stated. This email and attachments have been screened and are believed to be free from any virus. However, it is the responsibility of all recipients to ensure that they are virus free. This email was sent to you by RetailTribe. RetailTribe will not accept any liability for any damage caused by a virus. If you no longer want to receive this email, please
unsubscribe here
.