"Active Merchandising' is going to be the future of real-world retail."

Should you, the expert, reach out?

If our company's accountant notes a change in tax legislation that might offer us an opportunity to re-structure employment contracts for the benefit of our employees, I expect them to reach out to us and show us the new opportunity – even if to exploit that opportunity we might have to incur a fee.

If our email service provider develops a new module to ease the pain of managing so many different international privacy laws, then even if there's a license fee, I expect them to contact us to explain the opportunity.

If I was a pre-diabetic with elevated blood sugar and new pharmaceutical therapy was available, I'd hope that my doctor would reach out and let me know the opportunity, risks, and price.

If a golfer struggles with a slice, especially off the tee, and Callaway releases a driver that reduces or removes a slice, which of the following should you do: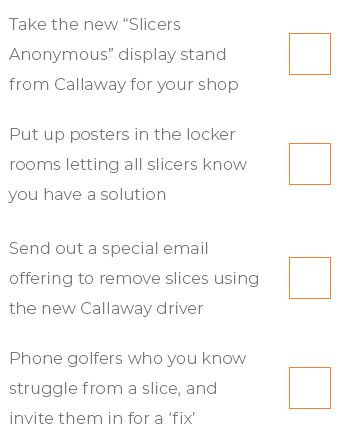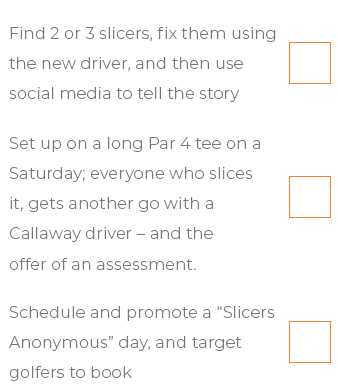 One of those is "reach out to individual golfers who you know have a problem". Did you tick it?

How do you think I'd feel if my PGA Professional called me and offered me 30 minutes to see if they could fix my slice using equipment?

If I expect it from my accountant, lawyer, or doctor, why wouldn't I expect it from MY Golf Professional?




Subscribe
Legally Privileged Disclaimer
Internet communications are not secure and therefore RetailTribe does not accept legal responsibility for the contents of this message. The information in this email and any attachment to it is confidential and is intended for the addressee only. Any unauthorised disclosure, use or dissemination of the contents in part or whole is prohibited. If you are not the intended recipient please return it to the sender and delete it. Any views or opinions presented are solely those of the author, and do not necessarily represent those of RetailTribe unless otherwise specifically stated. This email and attachments have been screened and are believed to be free from any virus. However, it is the responsibility of all recipients to ensure that they are virus free. This email was sent to you by RetailTribe. RetailTribe will not accept any liability for any damage caused by a virus. If you no longer want to receive this email, please
unsubscribe here
.