"'Active Merchandising' is going to be the future of real-world retail."

Whenever a plan comes together: campaign, content, promotion, and engagement event (active merchandising), we're excited. Connecting golfers to their expert guide is our passion.

It's our passion because we care about our customers (clubs, retailers, and coaches), and we care about golfers. We know that golfers are better off the more connected they are to a PGA Professional.

We also know that for your marketing to be effective, the golfer needs to know that you care about them. Just as engagement events give you the chance to spread the love and care, so does content.

Remember the pyramid. Remember who you're talking to. Remember, what drives them is NOT a carbon-composite crown or a rebound frame. Most of that pyramid wants your help and care.
We know we're creating the right content when we get contact forms sent to Professionals that say things like:
"Get out of my head. LOL. Each week your email seems to be talking directly to me. It's like you know my frustrations. So I give up. Please book me in for an assessment."

"If you can give me a longer walk up the fairway, I'm in. Book me in."
"You are so right. I don't aim at the flag on my approach shots. I avoid the bunker. I'm interested."
The business of Golf is not about technology, the golf club, the course, or lessons. It's about a human being and how they feel about the game.

Everything starts there.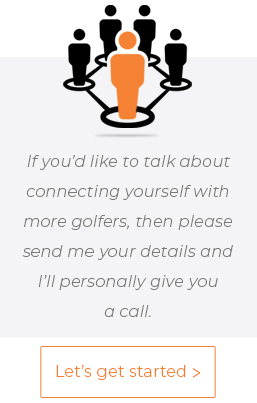 Subscribe
Legally Privileged Disclaimer
Internet communications are not secure and therefore RetailTribe does not accept legal responsibility for the contents of this message. The information in this email and any attachment to it is confidential and is intended for the addressee only. Any unauthorised disclosure, use or dissemination of the contents in part or whole is prohibited. If you are not the intended recipient please return it to the sender and delete it. Any views or opinions presented are solely those of the author, and do not necessarily represent those of RetailTribe unless otherwise specifically stated. This email and attachments have been screened and are believed to be free from any virus. However, it is the responsibility of all recipients to ensure that they are virus free. This email was sent to you by RetailTribe. RetailTribe will not accept any liability for any damage caused by a virus. If you no longer want to receive this email, please
unsubscribe here
.