If you've bought a Christmas decoration recently, you'll know that the cost to make something has little to do with the price they charge.

Warren Buffett advises us to remember that 'value' is what the consumer is after. Simon Sinek in his hugely watched Ted Talk refers to the same thinking as the "golden circle".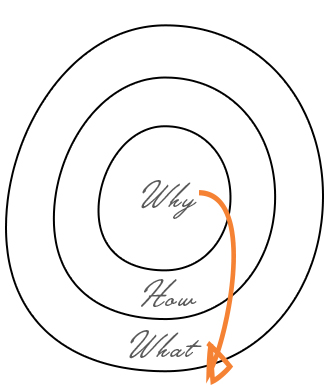 If you watch the video and then look at most advertising in our industry, we're selling the what (membership, round, driver, wedge, lesson) and not the WHY or the VALUE the consumer wants. Sinek highlights how Apple communicates:
So looking at the table above, think back now to our "Break 85". What would you categorize 'Break 85' as: the what, how, or why?

When you've decided which it is, have a go at working out how you would describe the missing layers, if you're trying to inspire golfers.



Subscribe
Legally Privileged Disclaimer
Internet communications are not secure and therefore RetailTribe does not accept legal responsibility for the contents of this message. The information in this email and any attachment to it is confidential and is intended for the addressee only. Any unauthorised disclosure, use or dissemination of the contents in part or whole is prohibited. If you are not the intended recipient please return it to the sender and delete it. Any views or opinions presented are solely those of the author, and do not necessarily represent those of RetailTribe unless otherwise specifically stated. This email and attachments have been screened and are believed to be free from any virus. However, it is the responsibility of all recipients to ensure that they are virus free. This email was sent to you by RetailTribe. RetailTribe will not accept any liability for any damage caused by a virus. If you no longer want to receive this email, please
unsubscribe here
.