If you've bought a Christmas decoration recently, you'll know that the cost to make something has little to do with the price they charge.

Would you believe we're still on a mission to convince you to run a 'Break 85' program or something like it.

What might be less believable (given the fact that we provide digital marketing services) is the fact that we're also trying to convince you that the most effective way to gain golfers prepared to pay a premium price for this program, is to book golfers you think might be good candidates into 9-holes of accompanied golf (for free) and to use the two hours to convert them into your program.

If you watched the video explaining the


then you'll understand how two hours of accompanied play gives you the opportunity to unlock reciprocity (you're giving your time); authority (your expertise will be clearly visible); scarcity (a personal offer for limited places); consistency (they're already committing two hours to you); and consensus (three golfers all with a similar aspiration to break 85).

As important a principle as any other though is 'liking'.

People are much more likely to 'like' someone who shows a genuine interest in them. Someone who seeks to understand them. Someone seeking to offer guidance and assistance to help them achieve what is important to them.

And there's a bonus. Seeking to understand the golfer not only means they are more likely to 'like' you, it also means you're likely to be able to learn what the emotional connection the golfer has to possessing a playing performance which means they can break 85.

Now you can communicate your proposition with all the powers of
persuasion revealed through the 6 principles AND the leadership of the Simon Sinek golden circle.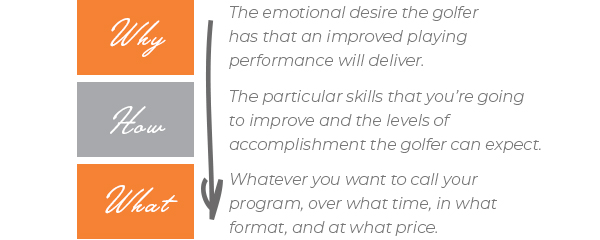 For those of you reading this in the United States and our American family outside of the United States, happy Thanksgiving wishes to you and your family.



Subscribe
Legally Privileged Disclaimer
Internet communications are not secure and therefore RetailTribe does not accept legal responsibility for the contents of this message. The information in this email and any attachment to it is confidential and is intended for the addressee only. Any unauthorised disclosure, use or dissemination of the contents in part or whole is prohibited. If you are not the intended recipient please return it to the sender and delete it. Any views or opinions presented are solely those of the author, and do not necessarily represent those of RetailTribe unless otherwise specifically stated. This email and attachments have been screened and are believed to be free from any virus. However, it is the responsibility of all recipients to ensure that they are virus free. This email was sent to you by RetailTribe. RetailTribe will not accept any liability for any damage caused by a virus. If you no longer want to receive this email, please
unsubscribe here
.