We've talked a lot about how we maintain the wave of golf participation generated by the experiences in 2020, but what about creating the next wave ourselves?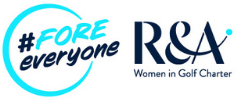 The R&A have launched an initiative #FOREeveryone to drive inclusivity. One of the key targets is to recruit and retain female golfers. You can read about this initiative now.

While 2020 has been a very difficult year, did you have a target for the number of women that you would recruit and retain? How many did you recruit and retain in 2019, and in 2020?



Subscribe
Legally Privileged Disclaimer
Internet communications are not secure and therefore RetailTribe does not accept legal responsibility for the contents of this message. The information in this email and any attachment to it is confidential and is intended for the addressee only. Any unauthorised disclosure, use or dissemination of the contents in part or whole is prohibited. If you are not the intended recipient please return it to the sender and delete it. Any views or opinions presented are solely those of the author, and do not necessarily represent those of RetailTribe unless otherwise specifically stated. This email and attachments have been screened and are believed to be free from any virus. However, it is the responsibility of all recipients to ensure that they are virus free. This email was sent to you by RetailTribe. RetailTribe will not accept any liability for any damage caused by a virus. If you no longer want to receive this email, please
unsubscribe here
.