We've talked a lot about how we keep the wave of golf participation generated by the experiences in 2020, but what about creating the next wave ourselves?

I sometimes wonder if the differences between generations, when it comes to preferences, are as great as we think.

Yesterday, we considered preferred learning environments at different age group levels for lady golfers. Writing it, I was reminded of a story Neil Lockie, then Director of Golf at Jonathan's Landing, told me: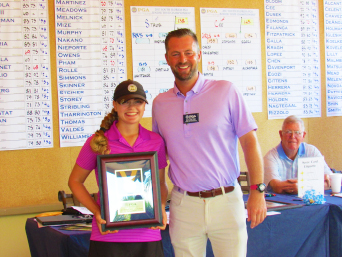 Neil described inheriting a small group of female learners in their
teens. Just three girls. He realized as he got to the range to conduct his first session that there wasn't a lesson tee booked, so he decided to take them out on the course and give the lesson via a 4-hole scramble.

The girls apparently loved it and demanded that all future lessons should be in the same format. Neil went home proud of his initiative.

"When time for the lesson next week came around, 7 girls pitched up. I got away with a 7-girl scramble, but then the next week 12 girls arrived on the tee, and I needed help."


It's a cool story of a program that quickly grew to 27 teenage girls. Meredith Lobeck, from Granite Bay, California, has commented that she uses a similar approach for all of her learner classes for the ladies, whatever their age. Andree Martin at Fairbanks Ranch Country Club,
the same.

But what about 50+ males? Would they enjoy learning this way? Would they prefer it to the one-on-one lesson tee?




Subscribe
Legally Privileged Disclaimer
Internet communications are not secure and therefore RetailTribe does not accept legal responsibility for the contents of this message. The information in this email and any attachment to it is confidential and is intended for the addressee only. Any unauthorised disclosure, use or dissemination of the contents in part or whole is prohibited. If you are not the intended recipient please return it to the sender and delete it. Any views or opinions presented are solely those of the author, and do not necessarily represent those of RetailTribe unless otherwise specifically stated. This email and attachments have been screened and are believed to be free from any virus. However, it is the responsibility of all recipients to ensure that they are virus free. This email was sent to you by RetailTribe. RetailTribe will not accept any liability for any damage caused by a virus. If you no longer want to receive this email, please
unsubscribe here
.