Friday, May 14, 2021






The Met men lost to Strand 2 points – 6 points.


1-3 (home) and 1-3 (away @ Strand)

| | | |
| --- | --- | --- |
| | | The future of golf is looking bright! |

New in the shop!


Neon golf balls from Noodle!



Never lose your golf ball again!

Results for the week: 7th May – 13th May 2018


Monday School 4 Ball Alliance – 2 X Scores To Count
Steve Newlan, Dave Gordon, Clifford Mijlof, Johan De Villiers on 90pts

Wednesday Members Competition - Individual Stableford
Steve Newlan on 37pts

Thursday Members Competition - 4 B.B.B. Stableford
Rob Van Sittert, Grant Cooper on 48pts

Saturday (Am) Members Competition - 4 B.B.B. Stableford
Muller Van Der Walt, Mike Parfett on 45pts

Saturday (Pm) Members Competition - 4 B.B.B.
Stableford Stan Gorman, Hutton Little on 48pts


Srixon have developed and evolved a proprietary SpinSkin technology.
The cover of the golf ball has a skin that literally allows the grooves of your club face to grip the ball.
That creates additional friction and MORE SPIN.





Those looking for tour
performance
with leading spin rates?
Tour performance for
moderate swing speeds.
The most spin for your money?
A 2-pce ball with SpinSkin has
distance AND great greenside performance.



If you haven't played a Srixon golf ball with SpinSkin technology, then give it a try.
Practice around the greenside. Feel the ball remain on the face for longer.
Notice how much extra spin you can create.

We're two weeks in to some simple advice on how to improve your
scorecard using the Par 3 holes. They're an opportunity for everyone.
Removing risk helps.

Simple Tip #3
Where's the easiest and safest target? Before you even look for the flag,
find the point on the green that gives you the largest room for error.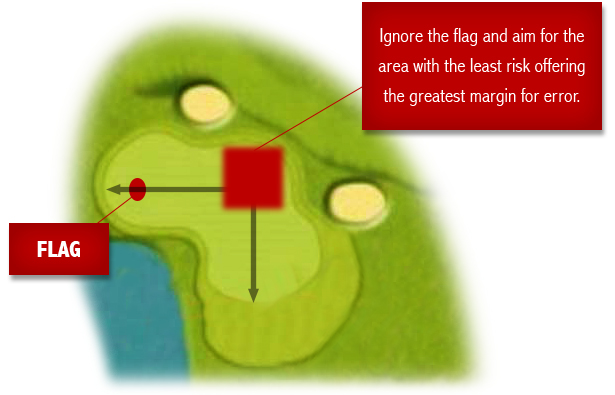 In this example, even going over the back of the target area marked will leave
you a chip and putt for a 3, so you're looking at a 4 at worst. Go at the flag and the
consequences of a miss could be much greater. Even if you fly the flag and land in the bunker,
you're then faced with a bunker shot back towards water. Going at the flag is a 2 or bust!


You'll be faced with a course management challenge on all approach shots,
not just Par 3's. Try playing a round where you take a 'safety first' approach to every shot.
Check out your score. Is it an improvement if you play within yourself?
Course management is an important part of your game; if you'd be interested
in an accompanied round to help with your course management,