Short Game Clinic

Last Thursday we hosted a Short Game Clinic with Elsabe tackling bunker shots, Joseph handling pitch shots and Dale doing putting.

We believe all the participants came away with a few tips in each area, which will help them to play a bit better.

There are many misconceptions around the short game and one of those is proven by the fact that very few people have lessons for their short game.

It's the easiest area of your game to shave off strokes, so why wouldn't you focus a bit more time on it?

We'll be doing another Short Game Clinic early in the New Year, so look out for it and make sure you sign up to take part.

Hole-in-One Challenge – win a 10-Year Membership valued at R250,000.00…
Take up the hole-in-one challenge from this Sunday right through to 14th January and you could win a 10-year membership to Zwartkop!
Abraham Kriel Golf Day – Fri, 6th December

This is going to be great fun as it's the Boere vs the Britte!
Join in the fun and at the same time you will be giving to a very worthy cause – the Abraham Kriel Kinderhuis!

Let's help people less fortunate than ourselves over the festive season. Call the golf shop to enter on

(012) 654-1144

.

The Singles Club


"The Singles Club" is for all you single figure handicappers. It involves a monthly game with a R100 entry fee, which the Club will match. The more people we get participating, the more the payouts, so encourage your Single Figure mates to take part! Enter with

Sharon Bruyns

on (012) 654-1144 / sharon@zwartkopcc.co.za.

The first event is on

Sun, 8th December

.

Let us help you play better golf...
This week Elsabe advises you on your set up when putting.


Practice with Purpose in November

Join Elsabe and Justin as they continue with

Breaking 80, 90 & 100





Every Wednesday from 12h00 – 13h00

– Breaking 80 & Breaking 90.


Every Thursday from 08h30 – 09h30

- Getting Started or Breaking 100.
Group Golf lessons



Group Classes end next week. Please call Elsabe for details on the classes in 2020!



Congrats to one of our caddies...



Julius Khoza

had an albatross on the 4th hole during last week's Development League game here at Zwartkop. He hit driver & 6-iron into the hole – unbelievable!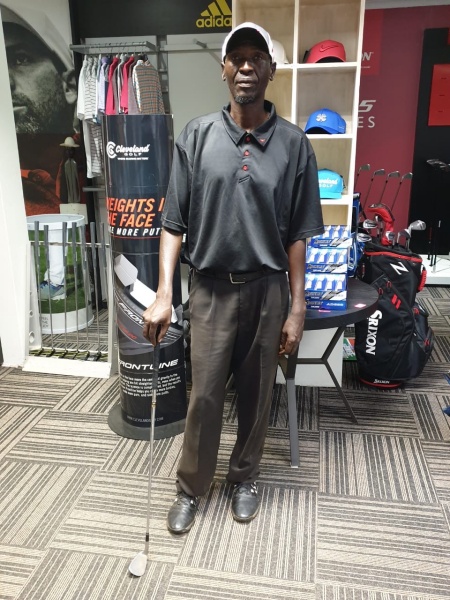 Julius Khoza
Wingate / Waterkloof / Zwartkop Alliance
We have an Alliance between ourselves; Waterkloof and Wingate, which allows you to play at their courses at member's rates. Please do remember to follow the Rules when using the Alliance:
• Bookings can only be made by our golf shop staff so contact Ian, Joseph, Vusi or Johan and they will make the booking on your behalf. Please do not arrive at Wingate or Waterkloof without an advance booking having being made by our staff!
• Bookings are subject to availability and can only be made one week in advance for games Monday to Friday and Sunday.
• Bookings for Saturday afternoons can only be made the day before.
• Saturday mornings are excluded from the arrangement.



Product of the Week



Your last chance to order your personalised Srixon Golf Balls. All orders must be in by

Sunday, 1st December 2019

. Simply click on the link below to place your order, pay via EFT and we'll do the rest!

A career in golf
What matters most to you?
Without us influencing you in any way, please click on the link below now and answer just one (required) question about your relationship with the game of golf.
Answer now >
This is a genuine attempt in collaboration with hundreds of other clubs and PGA Professionals to have a better understanding of what golfers want out of the game.
While we'd be interested to read the specific answer you've given (to help us to a better job of delivering more value to you), we won't be sharing your name with anyone. You will remain anonymous.
If you haven't already done so
Now you know this is a very short and very private survey – no personal details required. So go on,
Think about your golf

Discovering what has the most impact on your scorecard is a fun start to your improvement journey. It's the first step on the way to shooting new lows. So, we want you to keep some simple statistics over your next 4 rounds and then we want you to come see us for an assessment. We'll start with fairways found off the tee.
| | |
| --- | --- |
| | "The number of fairways found off the tee box is an important performance measure. And by the way, improving this statistic also influences how much you're likely to enjoy your round, as well as offering an opportunity to get you below 90." |
Book your skills assessment
Get an insight into your game. Discover what you could improve quickly. Let's plan an improvement journey together.


This mail was sent to {{contact.contact_email}} by The Club - and is provided as a service for the members and guests of Zwartkop Country Club and the customers of the Zwartkop Country Club Pro Shop and has been supported and sponsored by advertisers in this mail and my partner suppliers:




RetailTribe: Unit 8, Blaauwklip 1 | Blaauwklip Office Park | R44 | Stellenbosch | South Africa | +27 (0)21 880 2693