Friday, 19 April 2019

Email us

|

www.eogagolfacademy.co.za

| Tel: 021 712 1346
How the time flies!
The first term is finished which means that summer is on its way out. EOGA had a fantastic season and we're still going to make the most of the beautiful next couple of months before the cold hits us.
EOGA Steenberg
We had our

Target 36

launch where families came together and started their golfing journey. Many juniors were there and we are excited to see their progress.
Here are the next dates for

Steenberg Target 36

. Book and see your golf improve! Email

david@eoga.co.za

.
We continued our training with the

Western Province Girls Squad

at Steenberg. They truly are an excellent group of young women all working together to achieve their full potential!


St Patricks' Day challenge!
The players had to hit the ball into the pot of gold and earn their liquid gold (read: beer!). We had some very happy members! Thank you David for organising such a fun event and thank you to

Nico van Blerk

for the lovely photos (he is our non-official photographer when available!).
EOGA Erinvale
Murray and John are kept busy on the course in Somerset West. They've been busy with the

Ladies' Clinics

and the

Juniors

and lots of private coaching, from beginners to professionals. We're getting excellent feedback from our clients and it warms our hearts to see the difference we make in their game.

This next stretch will be busy with some

Junior Camps

during the school holidays. John is an absolute gem with kids and once your kid meets him, there will be no turning back!

Here are the
details:
Another event happening at Erinvale this month is our

Target 36

launch. Once you've attended the launch, you will not want to miss out on the follow-up events! Diarise!


EOGA Killarney
We are so pleased about the growth at our

EOGA Killarney

site.

Chalton

has been working hard at the club not only with our clients, but also in having the studio renovated. It's starting to look really good!
The lightning and rain have been a bit of an obstacle and the Target 36 had to be postponed. However, Capetonians have learnt to be grateful for every drop of rain (even if it is in Joburg!). So a new date has been set already and fear not,

Target 36

is coming to Killarney!

Target 36 is a great way of introducing, promoting and growing golf, especially for Ladies and Juniors who are not quite ready for playing on course yet. It is also a great way to build into families who like to play golf together.

Make your booking

with Chalton.
Also exciting this month at Killarney is our 2

Juniors Clinics

during the school holidays. Chalton has a really fun and challenging program for the young golfers.
EOGA Arabella
The

Junior Clinic

is happening every Wednesday afternoon. Last week we focused on chipping and pitching. We make sure to incorporate lots of fun games to keep their full concentration as well as pressure drills. What a great bunch of youngsters!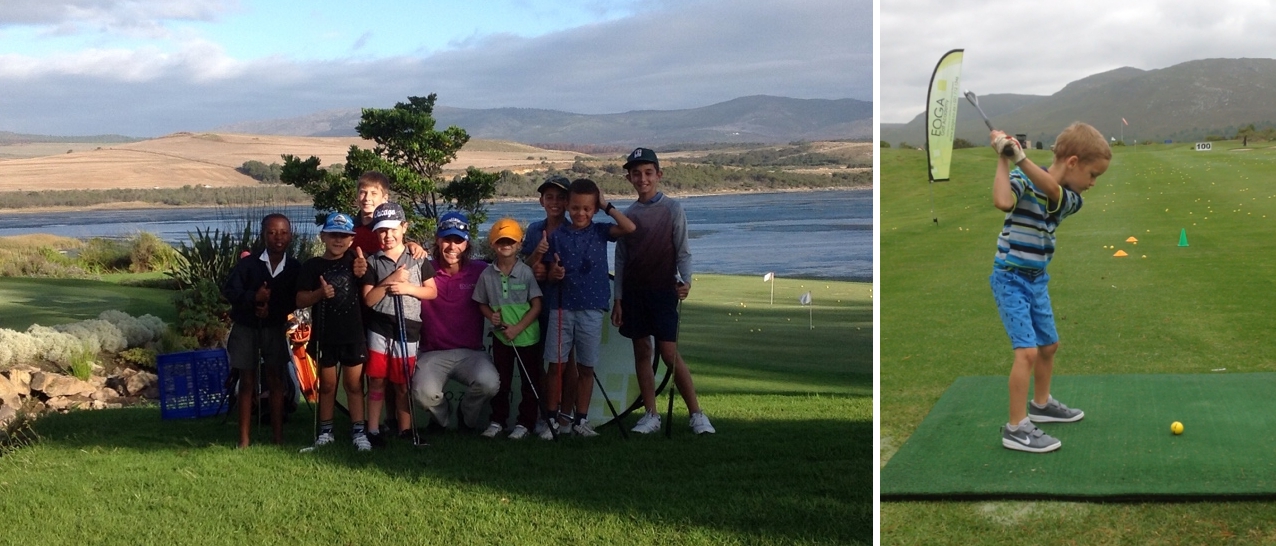 The Juniors of the Academy are improving at great speed! Next week will be their first time playing on the Arabella course. Pictured above is little Morne doing what he does best. What a great swing he already has! 6 years old and loving it already!

On Friday, for

St Patricks' Day

, we organised a couples challenge. The members dressed up and enjoyed the scramble format with their partner. Pictured below was the set up on the 5th hole: EOGA coach André sponsored champagne and the tailgating game. Not a bad set up for a Friday afternoon golf challenge!

Teams

Gail and Paul, Gary and Nico, and Thea and Johannes

all took just 28 shots to complete their round. We all had a lot of fun and many thanks also go to

Mike Munro

and the Arabella kitchen staff as the players were treated to some cocktails and nachos to enjoy afterwards!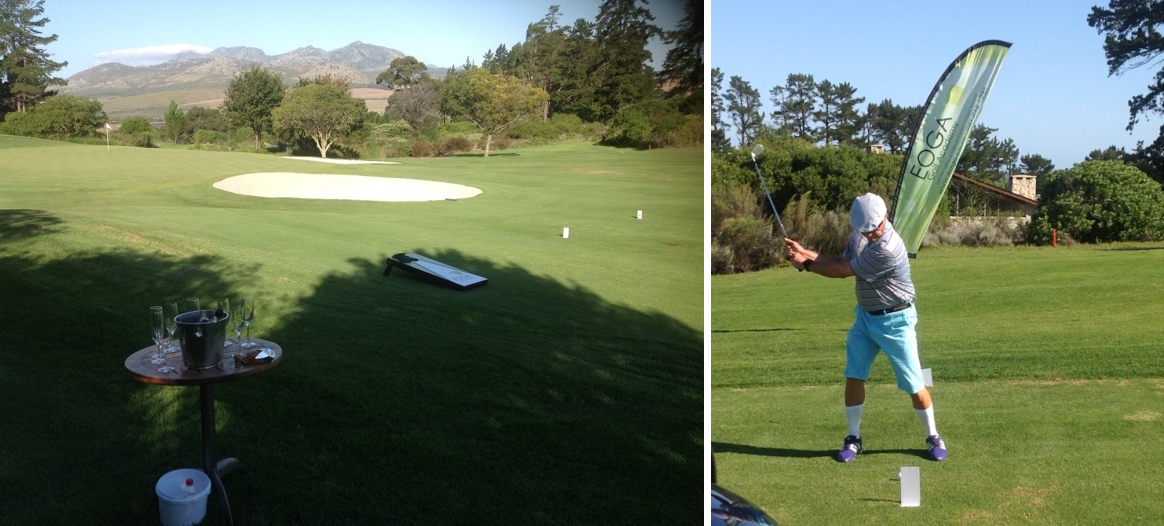 EOGA also got involved in the

Kleinmond

community and André had a first meeting with the kids of Kleinmond to introduce them to golf.

Kleinmond Fellowship Church arranged with André to have a few sessions together. It was a great turn out, the kids had a lot of fun and some of them displayed some promising good skills!
The weekly

Ladies' Clinic

is running smoothly. They're meeting every

Thursday 9am – 10am

. André is doing a fantastic job with the lady members. He's seeing a lot of improvement and camaraderie on the course!
Exciting news!
EOGA is getting involved close to town. We now have a presence at the
Metropolitan Golf Course.
Our coach

Ryan Randall

is taking care of this new site and we will have more news about the up and happenings of this prestigious beautiful new site.

There will be more about this new site in our next newsletter.
Some exciting results
Kieran Urquhart
(left) is still winning. This young man won the Western Province (U15) interprovincial in Worcester.



Chalton

(right), our EOGA Killarney coach in Johannesburg is standing next to

Josh van der Wath

who won the Killarney Country Club Junior Club Champion. We are very proud and excited with him!


Apologies for the blurry picture but

Gary Murphy

(far left) with EOGA coach André at Arabella Kleinmond won the Match Play Club Championship. He was unbeaten and won a few great players by showing his class.

André (middle photo, left) is posing with

Gail Witcomb

with a big smile as she accepts the trophy for winning Club Championship! Congrats Gail!

Also in Arabella Club Championship,

Thys Lourens

(far right photo, left) wins Men B Division and

Reinold du Randt

(right) is the runner up.
Photo gallery