Otway Hayes Senior Classic…by Chris Delport
This past weekend saw the 5th edition of this prestigious National Senior Tournament being held at Zwartkop. On Saturday the course was set up easier and it showed in the scoring, with our own Neil Goosen leading the field with an excellent 3-under par 68, followed by the defending Champion Gerhard Strydom and Gordon Wessels on 2-under 69's. On Sunday morning we experimented with a shotgun start and the course was made a bit longer and tougher. After 36 holes Brian Naidoo from Ermelo and the defending Champion Gerhard Strydom were tied at 142, level par, Brian shooting 70 and Gerhard 73.

In the play-off, both players hit great drives down the par 5 first, only to both hook their seconds into the trees. They miraculously both made up and down's to halve in birdies. The 8th was the 2nd play-off hole and again both hit great drives. Brian went first and hit his 2nd 30 feet left of the flag, whilst Gerhard pulled his 2nd long and left. He hit a great chip to 3 foot and Brian narrowly missed his birdie to make par. Gerhard then missed his short par putt, handing Brian the trophy, who was crowned the 2019 Otway Hayes Senior champion.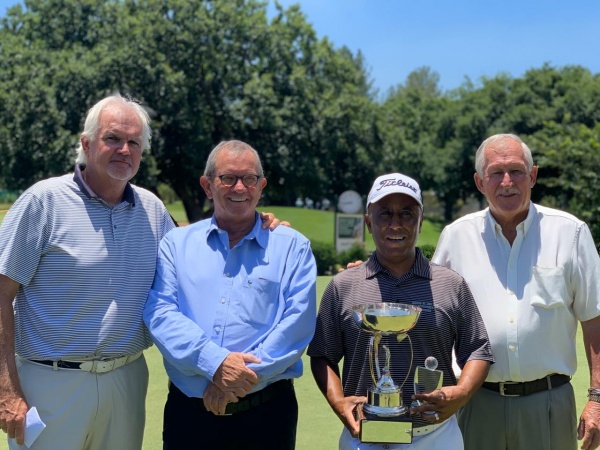 Otway Hayes Senior Classic Champion
The Zwartkop players results were:

• William Skinner: 3rd with 75+70 = 145
• Corne Basson: 5th with 71+75 = 146
• Neil Goosen: T10th with 68+81 = 149
• Robin Ashby: 18th with 77+75 = 152
• Chris Delport: T26th with 80+74 = 154
• Almero Meyer: T36th with 77+80 = 157
• Frans Booysen: T50th with 82+82 = 164

I would like to thank Sharon and Dennis Bruyns for their assistance, the Golf Shop staff, the ground staff and the catering staff, as it was a real team effort to host this tournament successfully.

Also a huge thanks to our Chairman Jannie Venter and Brian Hayes for giving up their time to attend the prizegiving.

I would like to quote a few comments received from players on the tournament's WhatsApp group:

"Hi Chris and the Zwartkop team. Thanks for an excellent tournament and making us feel at home" - Alex Anderson (Central Gauteng)

"Great event" -

David Stratton, ex-Springbok and current Central Gauteng player



"Thanks for a great tournament" -

Brad Ross-Jones (CCJ)



"Another successful tournament" -

Jock Wellington (Proteas and Central Gauteng and winner of 53 Senior tournaments)



"Best run tournament on the senior circuit" -
Gerhard Strydom

Xmas Gift Box Challenge

T
he end of the year is rapidly approaching and that means it's the season of giving!
Zwartkop will be doing their bit for charity and would like you to consider contributing to our Xmas Gift Box Challenge.

Take a shoe box and fill it with ALL of the following items:
• A tube of toothpaste
• A toothbrush
• A bar of soap
• A wash cloth
• Education supplies – like pens, pencils, eraser, pack of coloured pencils
• A t-shirt
• A toy
• Sweets


*Please make sure you include all the items listed above to ensure the boxes are all equal. Also please only use new items – nothing used or second-hand.

Write BOY or GIRL and an age appropriateness on the outside of the box and deliver them to the Zwartkop Country Club Reception

on or before Sat, 14th December.

All boxes will be given to our resident Lions Club Centurion Lifestyle, to be distributed to children in need.

Junior Events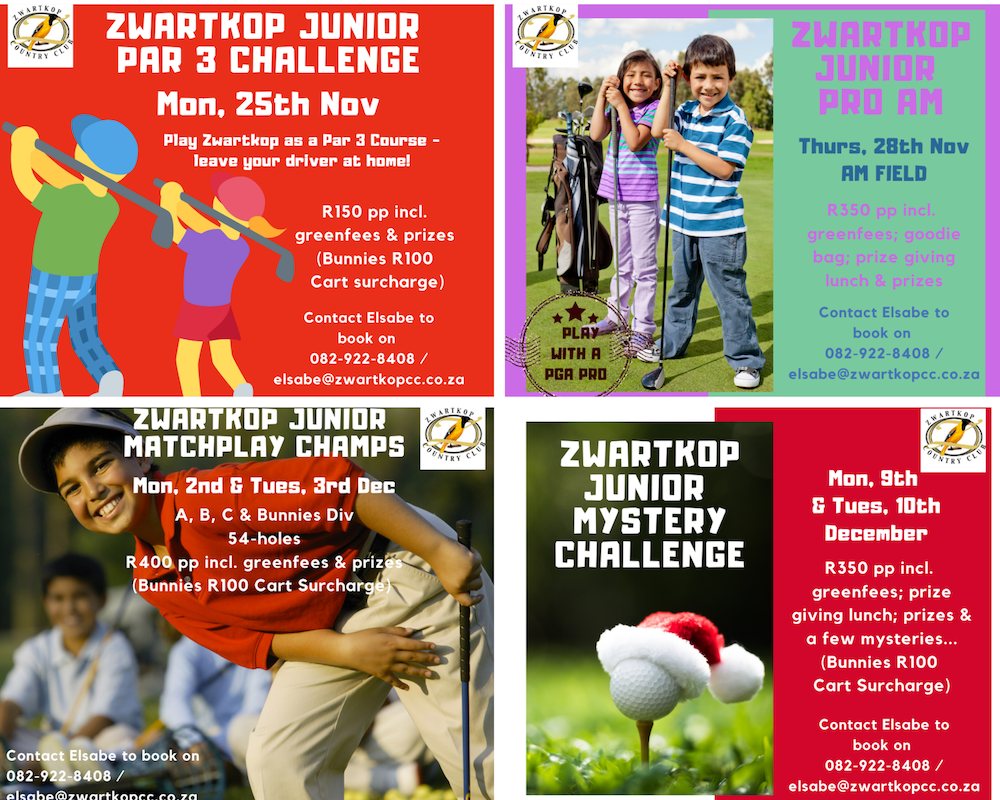 Please contact Elsabe for details and entries on

082-992-8408

/

elsabe@zwartkopcc.co.za

.
Shots in the Dark



Thurs, 28th Nov



We are so excited for this event…should just be fun-fun-fun!

We'll start at 18h30 with illuminated golf balls, then play 9-holes on the Pitch & Putter Course and 9-Holes on the Putting Green, with a few drinks' shots thrown in!

Congrats...


To Smart Ncube who had a hole-in-one on the 17th Hole on Friday, 15th November.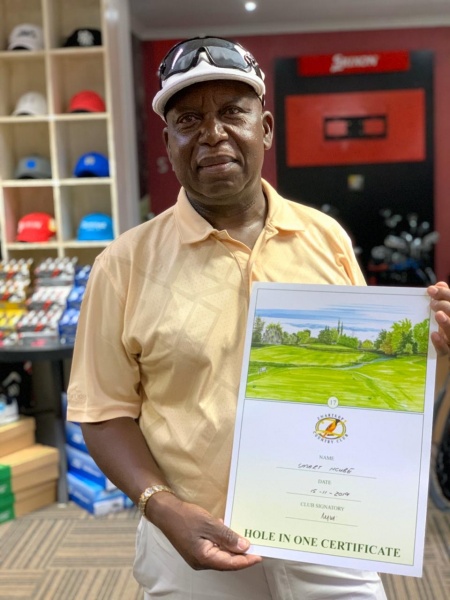 Smart Ncube
To Audi East Rand who raised over R160 000 for the Petro Jackson Fund at their golf day here last week. Ex Springbok captain, John Smit, spoke at the prize giving & a few other players were in attendance.

Jokers Wild Draw
Mikyla Wijburg
took home
R2838
in Friday's draw, but did not find the Joker. The pot now stands at R104 810!
Pop down for drink on Friday afternoon, where we have live music going and the draw takes place at 18h30.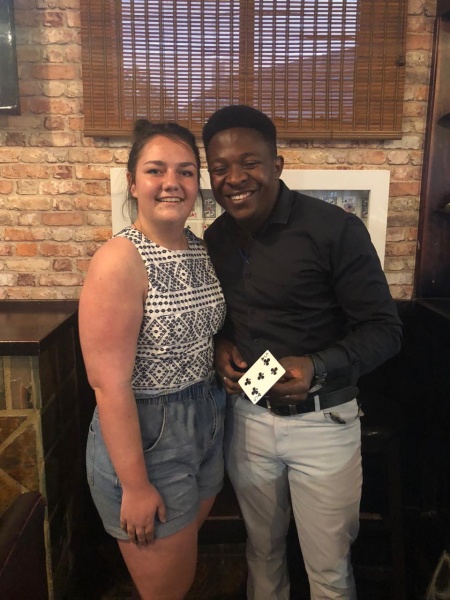 Mikyla Wijburg
Zwartkop Nite Race Series
The next event takes place on Wed, 4th December, the day that schools break up, so come celebrate in style! Pre-enter online to avoid queuing on the day.
We now have an ATM in the clubhouse!

We'd like to welcome the following new members to the Club:

Mr Brendon Juterbock; Mrs Loggie Chetty; Mr Kwadu Alpheus Mohale.



We wish you many happy years at Zwartkop. Please contact Ian Hayes or Joseph Phiri in the Golf Shop

(012) 654-1144

/

golfshop@zwartkopcc.co.za

, should you need any assistance at all in getting acquainted at the Club.



Zwartkop Hair & Beauty Salon



Tues, 19th – Open Day –
AM & PM &
Half Price Pizza Night! / ZCC AGM
Wed, 20th – Golf Day
- PM &

Wooster Wednesday

– live music & unbelievable chicken flatties
Thurs, 21st – Meat Day –
PM - Members pay R260 including comp fee & Affiliated Visitors pay R280 including comp fee



Fri, 22nd – Golf Day

– PM &

Jokers Wild Draw

at 18h30
Sat, 23rd – Members Day
- AM & PM
Sun, 24th – Members
– AM & Open Day - PM
Mon, 25th – Monday Madness –
AM (Members & Affiliated Visitors pay R225 (includes golf & a golf cart on a sharing basis). Non-affiliated golfers pay R335).
(**Please take note the last Monday Madness of the year will be on Mon, 2nd December. It will resume 13th Jan).


Tues, 26th – Tasty Tuesday – All Day & Half Price Pizza Tuesday Night!

Tasty Tuesday includes a golf cart sharing & a pizza after golf! Members pay R290 (prepaid greenfees pay R185); Affiliated Visitors pay R370 & Unaffiliated Visitors pay R470.
13th December - Be a part of our Xmas Market
9-Hole Specials -
Play 9 holes after 15h30 & the price includes a cart & bottle of water - Members R120 (No cart = R70); Visitors R150 (No cart R100) & Juniors R100 (No cart R50).

Fun GNGU Events for you to participate in:
24th Nov –

Nomads @ The Els Club


26th Nov –

Els Club Ladies Open


5th Dec –

Senior Ladies – The Els Club


6th Dec –

Nomads Gold Cup @ Wingate Park


8th Dec –

SADGA – The Els Club



You can enter via the

GNGU website

.


This mail was sent to {{contact.contact_email}} by The Club - and is provided as a service for the members and guests of Zwartkop Country Club and the customers of the Zwartkop Country Club Pro Shop and has been supported and sponsored by advertisers in this mail and my partner suppliers:




RetailTribe: Unit 8, Blaauwklip 1 | Blaauwklip Office Park | R44 | Stellenbosch | South Africa | +27 (0)21 880 2693