2019 AGM
The AGM last week was a mere formality and the entire Board has been re-elected for another term.



Chairman:

Jannie Venter


Captain:

Chris Delport


Vice-Captain:

Francois Anderson


Board:

Neil Goosen


Board:

Joey Hayes


Snooker Chairman:

Johann Lemmer

We would like to share with you the Chairman's Report by Jannie Venter

here

and the Captain's Report by Chris Delport

here

.

It's hard to believe that the Christmas holidays get under way next week! If you aren't going away that means there's more time for some fun on the golf course.



Shots in the Dark




Thurs, 28th Nov



There's still time for you to enter this fun event. We'll tee off at 18h30 and play 9-holes on the Pitch & Putter Course with illuminated golf balls and 9-Holes on the Putting Green, with a few drinks' shots thrown in!

Hole-in-One Challenge
From this Sunday, 1st December right through to the 11th January we'll have a Hole-in-One Challenge out on the course. Enter the competition, make a hole-in-one and you will win a 10-year membership to Zwartkop!

Christmas Competitions


Our Christmas Competitions get under way on

Thurs, 5th December

…
Junior Events



If you aren't going away, we still have two Junior Events you may want to get your kids into! Please contact

Elsabe

for details and entries on 082-992-8408 / elsabe@zwartkopcc.co.za.

Xmas Gift Box Challenge
The end of the year is rapidly approaching and that means it's the season of giving! Zwartkop will be doing their bit for charity and would like you to consider contributing to our Xmas Gift Box Challenge.
Take a shoe box and fill it with all of the following items:
• A tube toothpaste
• A toothbrush
• A bar of Soap
• A wash Cloth
• Education supplies – like pens, pencils, eraser, pack of coloured pencils
• A T-Shirt
• A toy
• Sweets

*Please make sure you include all the items listed above to ensure the boxes are all equal. Also please only use new items – nothing used or second-hand.
Write BOY or GIRL and an age appropriateness on the outside of the box and deliver them to the Zwartkop Country Club Reception on or before
Sat, 14th December
. All boxes will be given to our resident Lions Club Centurion Lifestyle, to be distributed to children in need.

Members Boma Braai

Thurs, 12th December
Let us show you what all the hype is about!
Xmas Market
Fri, 13th December
Get in touch with Elize Stoltz for all details and stall information on 072-307-8389 / elizestoltz001@gmail.com.
Congrats…
Imprint Signs
won the Halp Media Golf Day competition. Despite being called off because of the rain, the event will not be forgotten!
Jokers Wild Draw

Charl Jacobs took home R3320 on Friday, but the Joker Draw continues to climb and now stands at R113 110.00. Make sure you come down this week so you don't miss out!

The draw takes place at 18h30 and we have live music going to keep you in a festive mood.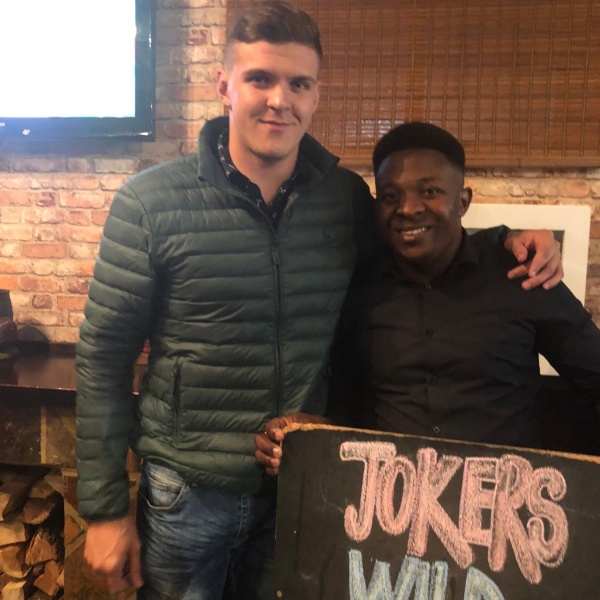 Charl Jacobs
Zwartkop Nite Race Series – Race 2
Wed, 4th December
Pre-enter online to avoid queuing on the day.
Get a massive discount on your membership subscription

Bring us a new member and we will give you 20% of the value of his/ her annual subscription fee as a credit towards your 2019/2020 subscription. For example, if you get a Full Member to sign up, their annual cost is R12 900 (including greenfees). We will give you R2 580 credit towards your subs. Contact the Golf Shop or

Bernadette

on

(012) 654-1144

for details.


We'd like to welcome the following new members to the Club:

Mr Gabriel Horn; Mr Erno Smit; Mr Ruan Oosthuizen; Mr Lourens Oosthuizen; Mr Tiaan Oosthuizen; Mr Derek Batte; Mrs Rosemary Poipao.



We wish you many happy years at Zwartkop. Please contact Ian Hayes or Joseph Phiri in the Golf Shop

(012) 654-1144

/

golfshop@zwartkopcc.co.za

, should you need any assistance at all in getting acquainted at the Club.



Zwartkop Hair & Beauty Salon



Tues, 26th – Open Day –
AM & PM &
Half Price Pizza Night!

| | | |
| --- | --- | --- |
| | | |
| | | |
| | | |
Wed, 27th – Golf Day
- PM &

Wooster Wednesday

– live music & unbelievable chicken flatties.
Thurs, 28th – Meat Day –
PM - Members pay R260 including comp fee & Affiliated Visitors pay R280 including comp fee /

Shots in the Dark at 18h30

.



Fri, 29th – Tee Times available in a shotgun start @ 12h00

&

Jokers Wild Draw

at 18h30
Sat, 30th – Members Day
- AM & PM
Sun, 1st – Members
– AM & Open Day - PM
Mon, 2nd – Junior Matchplay / Monday Madness – AM & PM
(Members & Affiliated Visitors pay R225 (includes golf & a golf cart on a sharing basis). Non-affiliated golfers pay R335).
(**Please take note the last Monday Madness of the year will be on Mon, 2nd December. It will resume 13th Jan).


Tues, 3rd – Junior Matchplay / Tasty Tuesday – All Day & Half Price Pizza Tuesday Night!

Tasty Tuesday includes a golf cart sharing & a pizza after golf! Members pay R290 (prepaid greenfees pay R185); Affiliated Visitors pay R370 & Unaffiliated Visitors pay R470.
9-Hole Specials -
Play 9 holes after 15h30 & the price includes a cart & bottle of water - Members R120 (No cart = R70); Visitors R150 (No cart R100) & Juniors R100 (No cart R50).

Fun GNGU Events for you to participate in:

5th Dec –

Senior Ladies – The Els Club


6th Dec –

Nomads Gold Cup @ Wingate Park


8th Dec –

SADGA – The Els Club



You can enter via the

GNGU website

.


This mail was sent to {{contact.contact_email}} by The Club - and is provided as a service for the members and guests of Zwartkop Country Club and the customers of the Zwartkop Country Club Pro Shop and has been supported and sponsored by advertisers in this mail and my partner suppliers:




RetailTribe: Unit 8, Blaauwklip 1 | Blaauwklip Office Park | R44 | Stellenbosch | South Africa | +27 (0)21 880 2693