The Club


Dear Member,

The good life on and off the course, your home away from home. It has been our passion to create an experience, for our members and their families, which will allow you to break away from it all and enjoy time with friends, either on the course or just appreciating the view while having something to eat. We cannot control what happens outside of our Club, but we will continue to make you feel at home. The team is ready to serve you and to make your day a special one.

Warm, friendly smiles are what you will see when you come to your Club. We have a great variety of meals available, with a selection of non-alcoholic drinks, and a great view. We have all Covid-19 protocols in place to ensure that you and your family can enjoy a day at Randpark.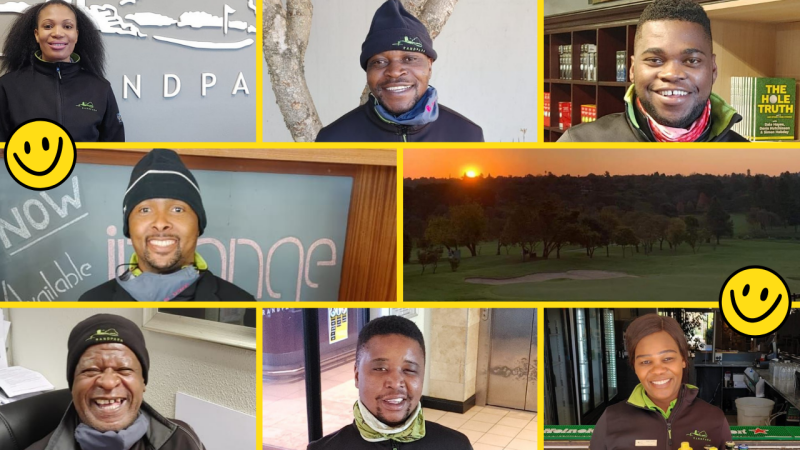 We look forward to seeing you soon. Stay safe, stay healthy and most importantly stay positive.



Bridge – 8th Bushwillow



We are currently on schedule. Civil works for both bases have started. We plan to cast the two-side bases during the course of next week. The steel is in the fabrication process and will more than likely be ready by the end of this week. Once we've done quality checks, we will then arrange for delivery and lifting of the bridge.
Happy golfing
Francois


We always encourage communication between our members and the Club. If you have any comments or questions, please don't hesitate to either contact our CEO, Francois Swart at

ceo@randpark.co.za

or our Club Captain, Derek McGowan at

captainslog@randpark.co.za

.
Join the WhatsApp Group


Receive Randpark news updates via WhatsApp in two easy steps:
1. Add Randpark as a contact on your phone:

082 052 4767

.
2. WhatsApp us your first and last name. If you ever want to stop receiving event news, simply send us a WhatsApp with the message "STOP".

Please note this WhatsApp number is operated from a computer and is, unfortunately, unable to receive any phone calls. Please contact the Club on

011 215 8600

for assistance.



World Golf Awards



We are proud to have once again been nominated for

SA's Best Golf Course 2021 in the World Golf Awards

! World Golf Awards™ serves to celebrate and reward excellence in golf tourism, world-class courses and golf destinations. Please

click here

to vote for your Club.

A huge THANK YOU to everybody who donated to our Winter Clothes Drive. We will be handing out the clothes at the beginning of August, so if you still have something lying around, please come and drop it off in the box outside the Terrace Bar.
The last major of the year is here, and for only R 100, you stand a chance of winning a brand-new set of Cleveland Zipcore Wedges. Be sure to come down to the Randpark Golf Shop and enter our British Open Raffle. The Raffle ends on the 15th of July and the Draw will be done on the 18th of July.
The CGGU/Randpark Open Foursomes
will take place on Sunday, the 29th of August. It will be a 36-hole Foursomes Strokeplay tournament.
•
Open to amateur golfers who are members of a golf club affiliated to GolfRSA.
•
This event is limited to 44 pairings (88 players) on a first come first serve basis.
•
Players must enter in pairs, which can be male, female or a mixed pairing.
•
Firethorn morning field and afternoon field.
•
Morning field: 06h46 - 08h30 | Afternoon field: 11h22 - 12h50 off both tees.
•
Entry fee: R840-00 per team.
Please contact Leanne on
clubevents@randpark.co.za
for more information.
Please
click here
to download the entry form.
Please
click here
to download the Tournament Risk Mitigation Procedure.
Entries close at 12h00 on Friday, the 20th of August 2021.
Any cancellations/withdrawals after the closing date will not be refunded. Players who have any of the Covid-19 symptoms on the morning before play or any time leading up to the event, are obligated to inform the Union and withdraw from the event. In this case, the entry fee will be refunded.
Tonight's Curry Specials

•
Curried Butternut Soup, served with toasted ciabatta –
R25
•
Butter Chicken Curry, yoghurt and Indian spices marinated chicken breasts, simmered in a curried creamy tomato sauce, served with a fragrant rice –
R90
•
Lamb Biryani, curried lamb tossed with brown lentils, yellow rice and crispy potatoes –
R145
All curries served with sambals, poppadums, chutney, desiccated coconut, cucumber raita and mango achaar.
You can also order your Club-favourites from Monday to Saturday between 11am and 7pm and Sunday between 11am and 4pm for takeaway collection.
Contact
011 215 8600
... and voila - you're off to culinary heaven!
Click here
to view our take-away menu.
Sunday Lunch Special
•
Honey-glazed Gammon, served with dauphinoise potatoes, broccoli cauliflower au gratin and apple sauce.
R480 for 4
R250 for 2
•

Dessert
–
Apple crumble tart served with vanilla ice cream/custard.
R180 for 4
R100 for 2


Please note all orders (take-away and those that will be enjoyed at the club) must be placed by Saturday at 14h00.

Book

your table

–

view

the menu.


Have a great weekend
Stay Safe, Healthy & Happy!
The Randpark Team