It's the final countdown …
Brought to you by BSI Coach, Tyrone Gibb
Performance Tip
| | | |
| --- | --- | --- |
| | | Please click on the link below to read on how to 'Manage Your Miss' |
Who made it to our wall of fame?
BSI Tournament Results
Your BSI Matchplay Knockout Champion 2021 is …
Jules Helary!
| | | |
| --- | --- | --- |
| | | This is the one major individual event of the year, where College, Academy and Junior Academy students all compete for ONE trophy. Congratulations to Jules Helary, who after 10 months and a 37-hole final, took full honours to be crowned BSI Matchplay Champion 2021, by defeating fellow BSI Academy member Ryan Estment in an exciting match. |
Jules led all the way up to the 36th hole, having been 4 up at one stage. Having reeled Jules in to be only 1 down playing the last hole, Ryan drained a 30-foot eagle putt to force a play-off. Jules stayed calm, however, and sunk his birdie putt on the 1st extra hole to be claimed the ultimate winner, and is our BSI Matchplay Knockout Champion 2021!

Watch Jules' interview below, after the emotionally and physically draining day.
Congratulations to Sean Paxton and Reece Mckain on their joint win on Wednesday, 24 November in the BSI Golf Premier Medal, with scores of 72 on Royal Johannesburg and Kensington East Course.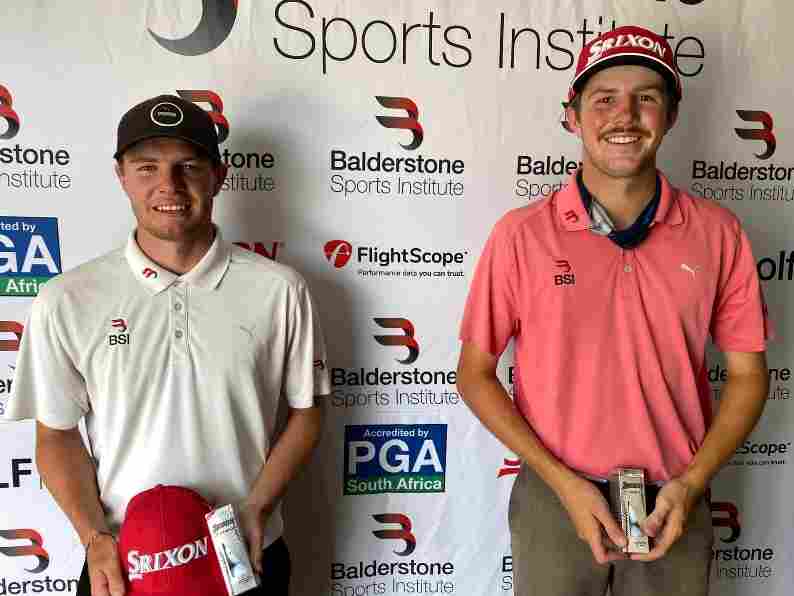 Reece Mckain and Sean Paxton
Well done to Vuyisani Makama and Bernard Meyer for their joint win on Friday, 26 November in the Junior Academy Medal, with scores of 72 at Huddle Park GC.

An awesome achievement also by Pranay Kapur, who attained his personal best by an incredible 9 strokes to post a superb 75 on the day.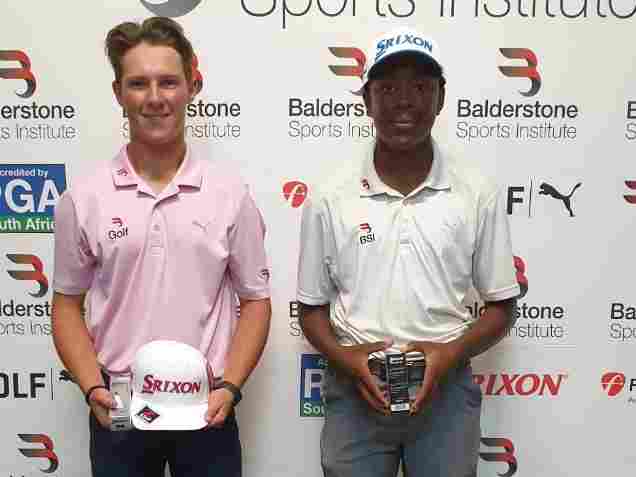 Bernard Meyer and Vuyisani Makama
Who will come out on top?
Order of Merit 2021
This week sees our final event for the year, our 72-hole Championship for both Order of Merits. There are still lots of points up for grabs for our OoM contenders over the next three days at Royal Johannesburg and Kensington Golf Course.

The OoM in the Premier Division sees only 6 278 points separating Reece Mckain, Heinrich Prinsloo and Jordan van Niekerk in the Top 3 positions. All three are experienced campaigners, and it promises to be an exciting finale.
Our Junior Academy OoM leader is Michael Wallace, with Tawriq Abrahams and Vuyisani Makama both in great form, and in close pursuit. We can't wait to see these talented young players battle it out over the next three days.
Good luck to all the contenders. They are all in it to win it!
Putting our skills to the test
3rd Years vs Staff
The 'MAIN EVENT' for any 3rd Year PGA Diploma Student's time at BSI
After nearly 36 months of learning, practicing, conditioning, experiencing highs and lows, training, hundreds of hours in the gym, hitting thousands of golf balls, preparing mentally on all fronts, it boiled down to one day of bringing it all together to take on the staff of BSI!

Well done to all who participated and congratulations to the 'experienced' staff team for taking the 'W'!

Take a look at the final results in the link below.
Student Spotlight
BSI Players of the Month
College/Academy Player of the Month – Jules Helary
| | | |
| --- | --- | --- |
| | | Congratulations to Jules Helary for being voted Player of the month for November 2021 by our BSI coaching team. |
Jules notable achievements this month:
1. Won the BSI Matchplay Championship 2021 after a 1-hole playoff against Ryan Estment.
2. Won the Central Gauteng Closed Trophy with scores of 69, 67, and 69.
3. Finished in 3rd place in the Central Gauteng Open event.
4. Tied 7th at the Harry Oppenheimer Trophy at Maccauvlei GC with scores of 78, 70, 73, and 72.
5. Tied 40th at the Bobby Locke Invitational at Parkview GC with scores of 73 and 78.
Junior Academy Player of the Month – Bernard Meyer
Well done to Bernard Meyer, who has been showing his usual consistent form throughout November, and was voted Player of the Month.

Bernard's notable November 2021:
1. Won 1 BSI medal during the month with a stroke average of 72.
2. Tied 15th at the Harry Oppenheimer Trophy at Maccauvlei GC with scores of 79, 71, 75, and 74.
3. Tied 29th at the Central Gauteng Open at Royal Johannesburg and Kensington GC with scores of 72, 67, and 81.
4. Tied 18th at the Bobby Locke Invitational at Parkview GC with scores of 72 and 75.
| | |
| --- | --- |
| | Give the gift of better golf |
With the year quickly coming to an end and gifts of 'thanks', or for Christmas on your mind, why not look at giving your loved ones, friends, or golfing playing partner a few golf lessons for the new year. Go to our website below to see the packages we have to offer.
BSI Football Academy – Players of the Month
Not just golf
Elite Development Player of the Month
| | | |
| --- | --- | --- |
| | | Phenyo Segathle has chosen the right time of the year to hit a rich vein of form. His development has accelerated in November as his confidence grew, and his work ethic was second to none. As our inaugural Ubungani Cup kicks-off this weekend, Phenyo has done his bit to ensure the coaches put pen to paper, and he plays a pivotal role in the BSI Football Academy's team |
Youth Development Player of the Month
Blessed end of the Season for Moyana
| | | |
| --- | --- | --- |
| | | Blessing Moyana continually demonstrates a willingness to learn and develop. In November, Blessing took full advantage of training with the EDP players, and flourished when challenged. Blessing is a pleasure to coach, and 2022 will be an exciting year in his Football journey. |
BSI Football Academy
OBC Ubungani Cup
Balderstone Sports Institute (BSI) Football Academy are, as part of our professional training and development of youth footballers, showcasing the immense soccer talent that South Africa has to offer. We have organised a four-team U20 Invitational Football Tournament on Saturday 04 December 2021 – The OBC Ubungani Cup. The Ubungani Cup will present the cream of Mamelodi Sundowns, University of Johannesburg, Kappa Invitational, and BSI's very own U20 players, in what promises to be some hotly contested football games.

This tournament will be hosted at the exclusive BSI Football Campus in Modderfontein, Johannesburg and will consist of fast-paced and exciting soccer games.

We would like to invite our BSI community to come through on Saturday, 4 December to watch some exciting football action. Games kick-off at 08:30, with the Final at 14:30.
In case you missed it
Let's recap
Catch up on our previous newsletters and re-familiarise with our performance tips.
| | |
| --- | --- |
| | Thank you to our sponsors |

This mail was sent to {{contact.contact_email}} by Michael Balderstone and is provided as a service for the members and guests of Balderstone Sports Institute and has been supported and sponsored by advertisers in this email and our partner suppliers. For any queries contact us on 082 448 0753.

Sent on behalf of Balderstone Sports Institute by
RetailTribe: Unit 8 | Blaauwklip Office Park | Stellenbosch | 7600 | 021 880 2693